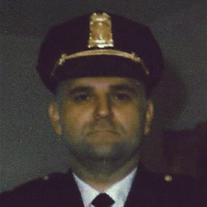 Louis Blancato Jr., 85, of Huntingtown, Maryland passed away on June 6, 2016 at home surrounded by his family following a brief illness. Born June 21, 1930 in Manhattan, New York he was the son of Italian immigrants; Louis and Julia Giorgi Blancato.

He married the love of his life and best friend, Bella Theresa Mazza on March 13, 1948 in Bronx, New York, spending the next 68 years together. In 1953 with their three children, they moved from New York to Maryland where Lou joined the Washington Metropolitan DC Police Department, graduating from the 130th police academy class on April 1, 1954. This would be the start of a long and very notable and rewarding career, which would last for the next 26 years. By December of 1956, Lou attained the rank of Detective in the old Ninth Precinct. From there, he transferred to the Robbery Squad in Headquarters where he attained the rank of Detective Sergeant by September 1961. By October 1963, Lou had been promoted to the rank of Lieutenant Detective in the Fourth District. Lou retired from the Metropolitan Police Department in March 1979.

In addition to the raising of his loving family and his law enforcement career, Lou also managed to find time on weekends to enjoy being a gentleman farmer for many years on a small farm in West Virginia tending to his apple orchard, gardening and hunting with his sons. He was also a member of the Calvert Elks Lodge #2620 and the Association of Retired Police, Washington, DC.

Lou is survived by his loving wife Bella; five children, Richard (Linda) of Capon Bridge, W.V., Juliana Ellett (Gerald Broome) of North Beach, MD, Nancy Koch of Crofton, MD, Louis (Cathy) of Chesapeake Beach, MD, and Charles (Susan) of Little River, NC; nine grandchildren, Jennifer Huff, Barry Muffley, Nichole Opkins, Melissa Hulse, Wayne Koch, Stephanie Blancato, Carley Blancato, Richard "Pete" Blancato, Jr, Ashley Blancato; nine great grandchildren as well as several nieces and nephews. Preceding him in death where his parents and sister, Rena Calcagno of Syracuse, New York. Memorial contributions may be made to Calvert Hospice, P.O. Box 838, Prince Frederick, MD 20678. Arrangements provided by Lee Funeral Home.