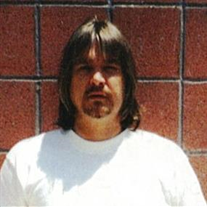 Clifton Vernon Graves of Leonardtown, Maryland died suddenly in Charlotte Hall, MD. He was 49 years old. In addition to his father, he was preceded in death by an infant brother.

Born December 20, 1966 in La Plata, MD, he was the son of Roberta Jane Armstrong and the late Vernon Reginald Graves. Cliff, as he was affectionately known as, worked in several different occupations including as an Engineer Technician but mainly as a song writer. He enjoyed fishing, making jewelry and going to the beach.

In addition to his mother and step-father Larry L. Armstrong, Cliff is survived by his daughters Marissa V. Corbin and her husband Ward, Angel L. Graves and Jennifer Beers; his grandchildren Warren D. Graves Corbin, Ward T. Graves Corbin, Zion E. Graves Corbin, Zayden J. Corbin, Jayden J. Corbin, and Jace L. Corbin; a step-son Jeremy S. Kerby; his sister Tammy Jane Smith; aunts Mary Graves Still, Sandy Larson and Patsy Lawson; uncle Dick Graves; nephews Joey and J. B. Graves; his former wife Rhonda L. Graves.

A visitation will be held on Wednesday, June 8, 2016 from 2PM to 4PM and from 6PM to 8PM with a Funeral Service at 7PM at the Raymond Funeral Service, P.A. 5635 Washington Avenue La Plata, MD 20646. Interment will be private.

In lieu of flowers, the family is asking for donations to be made to Raymond Funeral Service, P.A. to help with the funeral expenses. Note: Please Do Not Use The Sympathy Store For Donations Towards The Funeral Expenses. Send Directly To Raymond Funeral Service, P.A. P. O. Box 422 La Plata, MD 20646. Arrangements provided by Raymond Funeral Service.