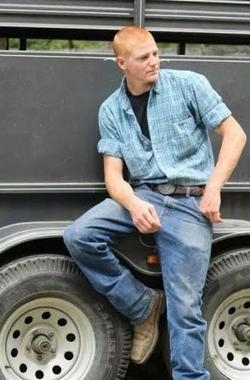 Bryce Aaron "Reds" Hurry, 20, of Clements, Maryland passed away May 31, 2016, surrounded by his loving family. He was born November 22, 1995 in Leonardtown, MD to Shannon Lee Gambler Hurry-Edwards of Hollywood, MD and Charles R. Hurry Sr. of Clements, MD.

Reds is a 2013 graduate of Chopticon High School. He successfully completed the Dr. James A. Forrest Career and Technology Center for Horticulture. He worked various jobs in construction, but his dream, which he was just embarking on, was to be a Cowboy. He was also employed by Wayne Mast caring for the Sutter Post Clydesdales. He recently participated in three bull riding events, with the last one being a success. He stayed on the bull for 8 seconds in Gordonsville, VA. He worked with the Chincoteague Salt Water Cowboys in running the horses.

His hobbies included camping, dancing, and spending time with family and friends. He loved animals, especially his horse, Duke and new puppy, Cabela. His favorite vacation was to Disney World and he was looking forward to going again with his family. He was energetic, kind hearted, and never met a stranger that he would not help. He volunteered with his mother doing wildlife rescues. He was a member of the Future Farmers of America, 4-H and the Professional Bull Riders Association.

In addition to his loving parents, Shannon Lee Gambler Hurry-Edwards (David J., Jr.) and Charles R. Hurry, Sr. (Barbara Dobbins); he is also survived by his brother, Charles R. Hurry, Jr. of Girdle Tree, MD and sister, Ashton Riot Hurry of Tooele, UT; his step sisters, Savannah Dobbins, Samantha Dobbins and Sabrina Dobbins all of Lexington Park, MD, his grandmother, Helen Gambler of New Tripoli, PA; step-siblings, Shelby Edwards of Hollywood, MD, Austin Edwards of Hollywood, MD and Cody Edwards of Mechanicsville, MD; and many extended family and friends.

Family will receive friends for Red's Life Celebration on Sunday, June 5, 2016 from 2:00 to 5:00 p.m., at Brinsfield Funeral Home, P.A., 22955 Hollywood Road, Leonardtown, Maryland 20650. A Funeral Service will be celebrated by Reverend Ann Strickler on June 6, 2016 at 11:00 a.m. at Brinsfield Funeral Home. Interment will follow at Charles Memorial Gardens in Leonardtown, MD.

Serving as pallbearers will be Robby Ching, Sean O'Grady, Dennis Hall, Joey Collins, Justin Lappin, Derek Bohrer, James Nelson and Dillon Bowles. Honorary pallbearers will be Jeffrey Townsend, Bryan Lewis, Vaugh Rayne, Robbie Downs and Brandon Moreland. Memorial Contributions may be made to Orphan Wildlife Rescue Center, 12199 Bonanza Trail, Lusby, MD 20657 or St. Mary's County 4-H Scholarship Fund, Post Office Box 663, Leonardtown, MD 20650. Arrangements by the Brinsfield Funeral Home, P.A., Leonardtown, Maryland.