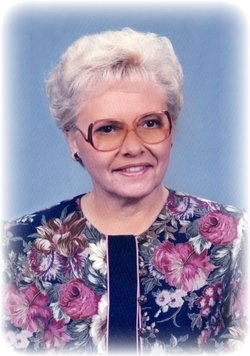 Flossye Mae Birch, 80, of St. Mary's City passed away on Tuesday, May 31, 2016 at her home after a long battle with Alzheimer's. Born on August 10, 1935 in Culpeper, VA she was the beloved daughter of the late Carl and Gertrude Yates of California, MD.

On December 19, 1953 she married Francis Donald Birch, her high school sweetheart and life-long love. Flossye went on to graduate from Warflyn Beauty College in Washington, DC in 1960 and was the senior manager of the Navy Exchange Beauty Salon until 1964 when she opened a full-service beauty salon in her California, MD home. She spent the next 20 years working out of her home while raising her two boys, Carl and Shawn.

Flossye had many interests and talents. A devoted Catholic, she worked in a number of parishes in the county. She was an active member in the St. Cecilia Parish, serving the poor and homeless. She worked at Immaculate Heart of Mary Church in the food pantry, as a compassionate case worker for those in need of assistance and as a member of the St. Vincent de Paul Society. Flossye received her Catechist Certificate from Catholic University, and taught Catholic Christian Doctrine (CCD) for eighteen years. Flossye loved the outdoors and was an avid gardener. She also enjoyed cooking and baking. She took great pride in her home, yard and her pets, but her greatest joy was spending time with her family.

Flossye is survived by Donald, her loving husband of 62 years; two sons, Carl Birch (Molly Hewitt) of St. Mary's City, MD and Shawn Birch (Kathi) of Fredericksburg, VA; grandchildren Fallon Birch, CJ Lea, Shannon Birch, Jessie Birch, Jeremy Birch, Seth Birch and Grace Birch and three great-grandchildren.

The family will receive friends on Tuesday, June 7th from 10:00 a.m. to 11:00 a.m., with a Mass of Christian Burial celebrated at 11:00 a.m. by Reverend Scott Woods, at St. Cecelia's Catholic Church, 47950 Mattapony Road, St. Mary's City, MD 20686. Interment will follow at Immaculate Heart of Mary Cemetery, 22375 Three Notch Road, Lexington Park, MD 20653.

Pallbearers will be Carl Birch, Shawn Birch, CJ Lea, Jeremy Birch, Seth Birch and Frank Fearns. Honorary pallbearers will be her nieces. Memorial donations may be made to St. Cecelia Catholic Church, 47950 Mattapony Road, St. Mary's City, MD 20686 or Ridge Volunteer Rescue Squad, Post Office Box 456, Ridge, MD. Arrangements by Brinsfield Funeral Home, P.A., Leonardtown, MD.