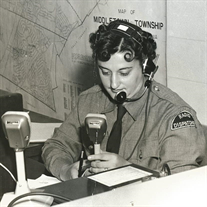 Rita Lillian Curtis, 89, of La Plata, Maryland (formerly of Philadelphia, Pennsylvania and Sun City, California) died June 1, 2016 at Sagepoint Senior Living Center in La Plata, Maryland.

In her youth, Rita was an Emergency Medical Technician and a dispatcher for the Levittown Pennsylvania Police Department. She was a church volunteer with Grace Lutheran Church in La Plata, Maryland where she helped develop the Compassion Center. She was known as a homemaker and a good mom.

She was the daughter of Victor Gardy and Mary DiAmico Gardy. In addition to her parents, she was also predeceased by her husband, Elmer E. Curtis III and a daughter-in-law, Sandy Bowers.

She is survived by her sons, Charles Bowers III and William Bowers; her daughter, Donna Kingsley and husband Wade; her brother, Victor Gardy and wife Loretta; her sisters, Anna DiBattista and Florence Gardy; her grandchildren, Michael, Tracy, Becki, Heather, and David; and her great-grandchildren, Thalia, Seneca, Logan, and Aidan.

Funeral Service and Interment will be at a later date at Arlington National Cemetery. Arrangements provided by Raymond Funeral Service.