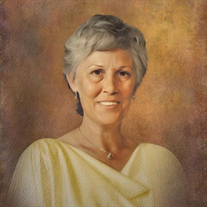 Catherine "Delores" Lawrence, 70 of La Plata, Maryland, died May 30, 2016 at Georgetown University Hospital in Washington, DC.

Delores was a homemaker and a member of Sacred Heart Catholic Church in La Plata, Maryland. She enjoyed her life as a homemaker, being with her children and grandchildren, and her beloved husband Joe.

She was the daughter of George Thomas Johnson and Dorothy Ann Faunce Johnson. In addition to her parents, she is predeceased by an infant son; her brother, George Johnson; and her sisters, Vicky Johnson, Peggy Johnson, Betty Hayghe, Jean Wheatly and Joyce Johnson.

She is survived by her daughters, Melissa A. Bearden and Tanya J. Cameron and husband Chris; her brothers, Bert Johnson, Jimmy Johnson, Wayne Johnson, and Will Johnson; her sisters, Shirley Dean, Ellen Curry, Joannie Norris, Marie Gonzalez, Judy Earp, Tina Lyghtel, Patsy Murphy, Faye MacDonald, Dianne Neil, and Brenda Yates; and her grandchildren, Andrew Bearden and wife Hannah, Daniel Bearden, and Matthew Bearden.

Friends received on Sunday, June 5, 2016 from 2-4PM and 6-8PM with Wake Service at 7PM at Raymond Funeral Service Chapel, 5635 Washington Avenue, La Plata, Maryland 20646. Mass of Christian Burial on Monday, June 6, 2016 at 10AM at Sacred Heart Catholic Church, 201 St. Mary's Avenue, La Plata, Maryland 20646. Interment in the church cemetery. Memorials are asked to Sacred Heart Catholic Church, PO Box 1390, La Plata, Maryland 20646. Arrangements provided by Raymond Funeral Service.