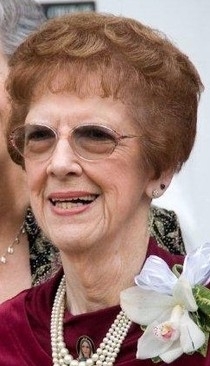 Alice "Elaine" (Holden) Richards of La Plata, MD entered into eternal life at the age of 91 on May 28, 2016.

She is survived by her two daughters, Mary Katherine (Kathy) Carro of Ocean View, DE and Donna Marie McCarthy (Jack) of Stevensville, MD in addition to five grandchildren and ten great-grandchildren.

Elaine was the eldest of seven children leaving sister, June Bryant of Salisbury, MD, and brother, Joseph Holden (Shirley), of St. Augustine, FL.

She was preceded in death by her beloved husband of 53 years, John Robert (Johnny) Richards, parents, John and Gladys (Robertson) Holden, sisters and brother, Charlotte Goering, Mary Jane Feickert, Joan Hancock, and William (Billy) Holden.

Elaine worked for the US Government for over 30 years and retired in 1985; she and Johnny both enjoyed many senior club activities with the Potomac Heights Leisure Club and St. Charles Senior Citizen Club.

For many years Elaine was one of the most reliable and dedicated volunteers at Civista Hospital's Same Day Surgery in La Plata, and enjoyed weekly Bingo games where many times she was asked to "call." But, without a doubt, Elaine's heart belonged to her church and the Discalced Carmelite Nuns of the Carmel of Port Tobacco. No request of the good nuns ever went unanswered and Elaine's car was often seen tooling down the highway on one errand or another. Even "Peter Pan" couldn't help but be impressed by all her travels on Mt. Carmel's behalf.

Elaine was not only a good and loving wife and mother, but in many ways, a playmate to her ten grandchildren, and, to the delight of her grandchildren, seemed never to grow up.

Following a private Mass of Christian Burial, Elaine will be interred next to Johnny in Mt. Carmel on Thursday, June 2, 2016. Arrangements provided by Arehart-Echols Funeral Home.