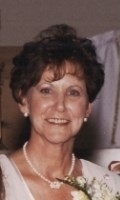 Patricia Ann Bailey "Patsy", 76, of Bushwood, MD passed away surrounded by her loving family on May 26, 2016 at her residence. Born on March 16, 1940, she was the daughter of the late Mary Gladys Blair and Walter Raynor Blair, Sr.

Patsy was the loving wife of William Edward (Eddie) Bailey, whom she married on July 26, 1958 in Holy Angels Catholic Church Avenue, MD. Patsy is survived by her children; Jacqueline Buckler (Kevin), Donna Mattingly (Richard), William Edward Bailey, Jr. (Kim) all of Bushwood, MD, 8 grandchildren, and 5 great grandchildren. She was a lifelong resident of St. Mary's County, MD and graduated from St. Mary's Academy in 1957.

Pasty was Co-owner of Bailey's Catering and Olde Breton Inn for 56 years. She enjoyed her grandchildren, and great grandchildren, sewing, working, upholstery, gardening, and decorating.

The family will receive friends on May 31, 2016 from 5:00 - 8:00 PM with prayers recited at 7:00 PM followed by Optimist prayers at 7:15 PM in Holy Angels Catholic church Avenue, MD. A Mass of Christian Burial will be celebrated on Wednesday, June 1, 2016 at 10:00 AM in Holy Angels Catholic Church with Father Anthony Lickteig officiating. Interment will follow in Sacred Heart Catholic Cemetery Bushwood, MD. Pallbearers will be her grandchildren; J. Richard (Rick) Mattingly, III. Grant E. Mattingly, J. Bailey Buckler, Blair C. Buckler, William E. Bailey, III, and grandson in law Joel R. La Duca.

Contributions may be made to ACTS (A Community That Shares) P.O. Box 54 Bushwood, MD 20618. Arrangements provided by Mattingley-Gardiner Funeral Home.