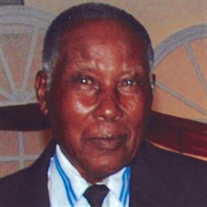 James Lymberg Smallwood, 88, of Bel Alton, Maryland passed away Thursday, May 26, 2016 at his home. He was born July 7, 1927 in Charlotte Hall, Maryland to Mattie and John Smallwood. He had 13 brothers and sisters.

Known as Lymberg to everyone, he met and fell in love with Mary Louise Wills in 1951. Together they went to live with his older sister, Jenny, who lived in Washington, DC for a few months. He became ill and was hospitalized. It was then that they decided the city life was not for them. They returned to Bel Alton, Maryland where Lymberg went to work on the farm at Causine Manor. It was there he would raise a family and retire. He and Louise had 11 children, 13 grandchildren, and 21 great grandchildren.

Lymberg loved to farm and he loved the land. Most of all, he loved having people around. His door was always opened. His weekends were spent with family and old buddies sitting out under the tree having a good time.

He retired in 1997 at the age of 70. In 2002, Lymberg was diagnosed with renal disease and spent the last 13 years going to dialysis three days a week. Four years ago, he had to have his leg amputated but that didn't stop him. At 84, he got up and learned to walk with a prosthetic leg.

He is survived by his life companion, Mary Louise Wills; his daughters and caregivers, Patsy Ann Boyden and her husband Mark, Polly Smallwood, and Betty Smallwood; his sons, Thomas Smallwood and his wife Brenda Corrine Smallwood, John Smallwood, Richard Smallwood and his companion Karen, Roger Smallwood and his wife Fontella, and Michael Smallwood and his wife, Felicia; and his siblings, Thomas Smallwood, Lucille Johnson, Eva Smallwood, and Janet Pack. He is also survived by a host of sister-in-laws, brother-in-laws, nieces, nephews, and friends.

He is preceded in death by his sisters, Barbara, Shirley, and Jenny; his brothers, Champ, Cecil, Francis, Edward, and Daniel; and his children, Yvonne Smallwood, Barbara Ann Wood, and James Jr.

Friends received on Saturday, June 4, 2016 from 9:30AM until Mass of Christian Burial at 11AM at St. Ignatius Chapel Point Catholic Church, 8855 Chapel Point Road, Port Tobacco, Maryland 20677. Interment to follow at Trinity Memorial Gardens, 3221 Mattawoman-Beantown Road, Waldorf, Maryland 20601. Arrangements by Raymond Funeral Service. Memorial contributions may be sent to Hospice of Charles County, 2505 Davis Road, Waldorf, Maryland 20603 or the Dialysis Unit at Sagepoint, 10200 La Plata Road, La Plata, Maryland 20646.