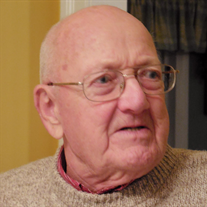 John Milton Wearmouth of Port Tobacco passed away Friday May 20, 2016 at the age of 92. He was preceded in death by his parents, Grace Owen and John William Wearmouth, and siblings, Alice Pirrone and Robert.

John is survived by his loving wife of 69 years, Roberta Clark; sister, Elizabeth Slack; children, Peter and Ann; and grandchildren, Justin, Abigail and Paige.

He was born in Allegan, Michigan in 1924. He served in Italy as a radio operator for the Army Air Corps during WWII. He earned his undergraduate degree from Michigan State College in 1949 and his Master's Degree at Georgetown University in 1952. John began work at the Marine Corps Headquarters where he co-authored the history of Tinian and Iwo Jima. He worked at the Pentagon in the Office of the Air Force Chief-of-Staff and retired in 1977 as Chief Editor at the Department of Commerce.

He had resided in Charles County since 1958 where he wrote extensively about local history, publishing six books on the subject. He was president of the Society for the Restoration of Port Tobacco and supervised the excavation of the 1820 court house site. He wrote a series of articles for the Maryland Independent in 1985 as part of a salute to Maryland's 350th anniversary.

His 30 years of oral histories of local teachers, watermen, farmers and veterans have been preserved at the College of Southern Maryland. He most recently contributed oral histories to the Veteran's History Project at the Library of Congress. John enjoyed travel in the U.S. and abroad as well as restoring antiques, landscape painting, gardening, and the outdoors. Most of all he enjoyed being with his family. He will be remembered as a kind, funny and loving husband, father and grandpa.

A viewing will be held on Friday, May 27, 2016 from 1PM until Memorial Service at 3PM at Raymond Funeral Service Chapel, 5635 Washington Avenue, La Plata, Maryland 20646. Interment at Arlington National Cemetery at a later date. In lieu of flowers, please consider donating to the Maryland Veterans Memorial Museum, PO Box 2123, La Plata, Maryland 20646. Arrangements provided by Raymond Funeral Service.