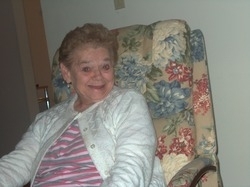 Zula Grace Weaver, 84, of Mechanicsville, MD passed away on May 21, 2016 at Genesis HealthCare in Waldorf, MD. Zula was born on October 31, 1931 in Broad Top City, PA to the late Robert Watson and the late Margaret Williams.

She was a Cafeteria Worker for the Prince George's Board of Education. Zula enjoyed reading, camping, shopping, and taking care of family.

In addition to her parents, Zula was predeceased by her husband, Ronald R. Weaver; son, Gary L. Weaver, Sr.; and daughter, Shirley Weaver. She is survived by her daughter-in-law, Cathy Weaver and grandson, Gary L. Weaver, Jr.

Family will receive friends for Zula's Life Celebration Visitation on Wednesday, May 25, 2016 from 5pm to 8pm at Brinsfield-Echols Funeral Home, P.A., 30195 Three Notch Road, Charlotte Hall, MD 20622, with a Funeral Service at 7:00pm. Interment will be at Fockler Cemetery in Saxton, PA on Thusday, May 26, 2016 at 1:00PM. Arrangements provided by Brinsfield-Echols Funeral Home.