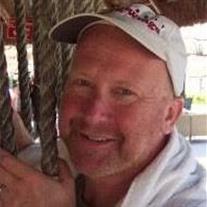 Douglas William Robinson, 54, of Owings, MD passed away on Thursday, May 19, 2016 peacefully at home.

He loved sports, aviation and politics. From cheering on his favorite teams to identifying the source contrails in the sky to debating policy issues he was always informed, opinionated and quick-witted. An accountant by trade, Doug dedicated his career to helping conservative candidates. He was strongly ideological and proud of his efforts in support of conservative causes.

Doug was a double lung transplant recipient, surviving more than 12 years after receiving his new lungs and defying all odds and survival statistics with his resilient spirit and love of live.

He is survived by his wife, Lynn (Galdi) Robinson, sons Andy and Steven, mother Evangeline Robinson, brother Richard and his wife Lisa, sisters Mary Elizabeth and Barbara and her husband Don MacDougall. He is also survived by many loving nieces, nephews, in-laws and friends.

Arrangements provided by Lee Funeral Home.