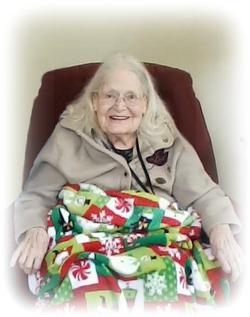 Agnes Raley Cline, 90, of Leonardtown, MD passed away May 16, 2016 at Spring Village at Wildewood surrounded by her loving family. She was born December 30, 1925 in Morganza, MD to the late George Lloyd and Martha Lucretia Russell Raley.

On April 3, 1948, Agnes married her beloved husband, Albert Richard Cline, Sr. in Washington, D.C. Together they celebrated over 41 wonderful years of marriage before his passing in 1989.

She was employed with over 30 years of dedicated service as an administrative specialist with the Department of Agriculture, Farmer's Home Administration in Leonardtown, Md.

She was an avid reader, enjoyed bird watching and loved her pet beagle, Scooter. She was a long time blood donor with the American Red Cross, something she was very passionate about. In retirement she learned conversational Japanese and Spanish, and took oil painting classes. She painted many beautiful landscapes and still life subjects and won a Grand Champion at the St. Mary's County Fair. Spending time with her family, especially her children and grandchildren was her greatest love.

Agnes is survived by her children, Albert Richard Cline, Jr. of Lexington Park, MD, Colin Cline (Chloe) of Leonardtown, MD, Florence Cline Devine (Andrew) of Leonardtown, MD, Agnes Cline Peters (Frank) of Fort Washington, MD, Carolyn Cline (Tim Petry) of Glen Rock, PA, and Ann Cline Rose (Paul) of Leonardtown, MD; eight grandchildren, five great grandchildren and many nieces, nephews, cousins and extended family and friends.

In addition to her parents and husband, she is also preceded in death by her daughter, Viola Lynn Cline; and her siblings, Joseph Raley, Jackson Raley, James Raley, Claude Raley, George Raley, Martha Shugars, Etoyle Sizemore and Doris Ann Downes.

Family will receive friends for Agnes' Life Celebration on Thursday, May 19, 2016 from 5:00 to 8:00 p.m., with prayers recited at 7:00 p.m., at Brinsfield Funeral Home, P.A., 22955 Hollywood Road, Leonardtown, MD 20650. A Graveside Service will be celebrated by Deacon Joseph Lloyd at 11:00 a.m. at Charles Memorial Gardens, Leonardtown, MD 20650. Memorial contributions may be made to the American Red Cross, 80 West Street, Suite A, Annapolis, MD 21401. Arrangements by the Brinsfield Funeral Home, P.A., Leonardtown, MD.