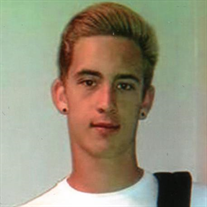 Tyler Matthew Bland of Prince Frederick, MD passed away Thursday, May 12, 2016 at the age of 16.

He was currently a sophomore at Huntingtown High School. A star athlete who loved football, lacrosse, wrestling and basketball. Tyler was a member of the Explorers program of the Calvert County Sheriff's Department, where he enjoyed helping others in the community. Tyler was loved by many and equally loved to help others.

Tyler is survived by his parents, Amanda and Brendan Kirby; his sister Briana, grandparents and several aunts, uncles, cousins and a host of friends. He is also survived by many coaches at Huntingtown High School, Prince Frederick Eagles, SYB and Huntingtown Youth Club.

Gone but NEVER forgotten! Tyler was a Prince Frederick Eagle first, where he soared high like an eagle. He then became a Caine and rocked it like a Hurricane!

In lieu of flowers, memorial donations may be made in Tyler's memory to Huntingtown High School Athletics Department, 4125 N. Solomons Island Road, Huntingtown, MD 20639. Arrangements provided by Lee Funeral Home.