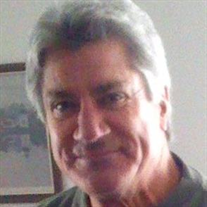 Darrell Edward Cooper of Lusby, Maryland passed away on Thursday, May 12, 2016 at the age of 63. He was born on July 14, 1952 in Miami, Florida.

Darrell loved networking with people through his amusements business, Sherry's cats and bird, hiking with his adored dogs, and travelling to Jamaica with Sherry.

He is preceded in death by his loving wife, Sharon Marie D'Agostino and his mother, Doris Josephine Futyma. He is survived by his brother, Donald Alan Cooper and sister, Donna Darlene King. He is also survived by his nephews Evan J. and Scott E. Cooper, nieces Cassandra Thacker and Shawna Watson, grandnieces Ryelee and Kyelee Thacker, and many cousins and good friends, including Edward Futyma, devoted husband of Darrell's mother, Doris.

Arrangements are being handled through Lee Funeral Home Calvert, P.A. Services will be private. Memorial contributions may be made to the American Cancer Society, 1041 MD Rt. 3 North, Building A, Gambrills, MD 21054.