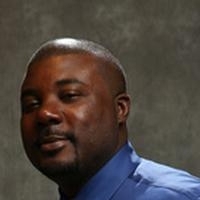 Bernard Winchester, III was born on March 24, 1982 in Washington, D.C. to Myra Logan and Bernard Winchester, II. Bernard attended Northwestern and Largo High School where he met his future wife, Karen Adams. Bernard and Karen were married on December 5, 2003 and lived a happy life together. Suddenly, on Saturday, May 14, 2016 while in the University of Maryland, Charles Regional Medical Center, La Plata, MD, both of their lives would be forever changed. Bernard transitioned to eternal life and Karen was left without her husband and best friend.

Bernard was an employee of the Charles County Government and worked as an Equipment Operator. Prior to the job with Charles County Government, he had his CDL and was a Truck Driver. Anyone who knew Bernard was sure to hear about his devotion to the Washington Redskins. He was a true FAN! He also enjoyed watching wrestling.

Bernard enjoyed cooking for his family. He loved being in the kitchen but was equally content outside hosting a bar-b-que. His family was important to him and he enjoyed the times when everyone would come together.

Bernard was very proud of his landscaping but not more than graduating and getting his Associates Degree in Business Administration. Bernard was loving, caring, helpful and courageous. He was always willing to help others and maintained a happy disposition for which he will always be remembered.

Preceding him in death was his grandfather, Harold Logan, whom he had a very close relationship. In addition to his loving wife, Karen, also left to cherish his memory is his mother, Myra Logan, father, Bernard Winchester, II, brothers; Keith Alan Hinson "KJ," Jovan Winchester, and Darius Winchester, grandparents; Myrtle Logan, Alice Logan, and Mary Phillips, mother-in-law, Wanda Adams, father-in-Law, Joseph Adams, sister-in-law, Kimbalee Adams, aunts; Harolyn Stokes, Charlotte Winchester, and Stephanie Winchester, uncle, Barney Stokes, Sr., niece, Skyler Adams, close cousins; Jamie Adams, Andre McCann, Lia Stokes, and Barney Stokes, Jr. "BJ" and longtime family friend, Keith Hinson and a host of other relatives and friends.

His viewing will be held 10am until Mass of Christian Burial, 11am on Monday, May 23, 2016, St. Joseph's Catholic Church, 4590 St. Joseph's Way, Pomfret, MD 20675. Interment Church Cemetery. Arrangements entrusted to Thornton Funeral Home, P.A., 3439 Livingston Road, Indian Head, MD 20640.