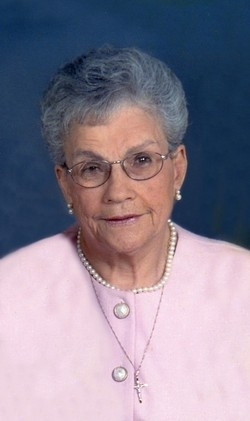 Mary M. Mattingly, 97, of Lexington Park, MD passed away May 16, 2016 in Callaway, Md. Born August 7, 1918 in Charles City, VA Mary was the daughter of the late Zora B. Adkins and the late Christine A. Adkins.

Mary is survived by her children, Janet Pelle and Jean Fram (Frank); her granddaughter, Marilyn Leckert and 3 grandchildren. Mary is also survived by her sister, Nantee Jefferson.

Mary was employed at C&P Telephone Co. for 32 years.

The family will receive friends on Thursday, May 19, 2016 from 10:00 a.m. to 12:00 p.m. at Brinsfield Funeral Home, 22955 Hollywood Road, Leonardtown, Md. A Funeral Service will be held at 12:00 Noon with Pastor Dan Moore officiating. Interment will follow at Fort Lincoln Cemetery, 3401 Bladensburg Rd., Brentwood, Md. at 3:00 p.m.

In lieu of flowers, you may make a contribution in Mary Mattingly's name to Callaway Baptist Church Building Fund, 20960 Point Lookout Rd., Callaway, MD 20620. Arrangements by the Brinsfield Funeral Home, P.A., Leonardtown, MD.