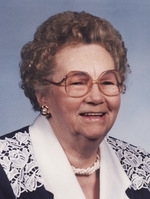 Mary Helen Seymour, 97, of Avenue, MD passed away on May 13, 2016 in Leonardtown, MD. Born August 11, 1918 in Oakley, MD, she was the daughter of the late Ann Gertrude Quade Lacey and George Albert Lacey.

Mary was the wife of the late George W. Seymour who preceded her in death on September 13, 1969, she was also preceded in death by her lifelong companion Delbert Hall.

She is survived by her siblings; John Stephen (Louise) Lacey of Avenue, MD, Francis Desales (Barbara) Lacey and sister-in-law Barbara Lacey of Avenue, MD, she was preceded in death by her siblings; Gertrude Lorraine (John) Hall, Eleanor Catherine (Lloyd) Russell, Elizabeth Irene (Ross) Huseman, Joseph Francis (Mildred) Lacey, George Elbert (Phyllis) Lacey, Thomas Lenehan (Loraine) Lacey, Robert Vincent Lacey, William McGuire Lacey, and James Edward (Jim Ed) Lacey.

Mary graduated from St. Mary's Academy in 1936, she was a clerk for the American Red Cross retiring after 30 years of service, she belonged to the American Legion Post 221, and the Red Hat Club, Mary was a Lay Eucharistic Minister to Shut-Ins, and she enjoyed crafting, spending time with family and friends and playing cards.

The family will receive friends on Tuesday, May 17, 2016 from 5:00PM to 8:00PM with prayers recited at 7:00PM in the Mattingley-Gardiner Funeral Home, Leonardtown, MD. A Mass of Christian burial will be celebrated on Wednesday, May 18, 2016 at 9:00AM in Sacred Heart Catholic Church, Bushwood, MD with Father Anthony Lickteig officiating. Interment will follow in the church cemetery.

Pallbearers will be; Charles (CJ) Huseman, Rusty Lacey, Donnie Lacey, Mike Lacey, Allan Lacey, and George (Pugie) Beall. Honorary pallbearers will be Wayne Lacey, Bill Lacey, Glady Hall, Tina Nelson, Franny Huseman, Pam Ellis and David Russell. Arrangements provided by Mattingley-Gardiner Funeral Home.