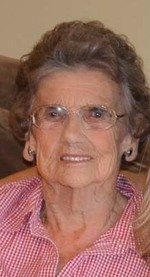 Adele Olivia Farrell (Parent), 90, of Bushwood, MD passed away on May 13, 2016 in Leonardtown, MD. Born on March 12, 1926 in Aitkin, MN she was the loving daughter of the late Oliver Moses Parent and Ruth Delyte Parent. She was a graduate of L'Anse High School Class of 1944 in Michigan.

Adele was the loving wife of James Everett Farrell whom she married on December 27, 1945 in Portland Oregon. Everett preceded her in death on September, 14, 2000. She is survived by her children: Lynn F. Whittington (Glenn), Ruth A. Glorioso (John), James O. Farrell (Linda), William E. Farrell (Mildred Sue), siblings: Odeille Parent, Oliver M. Parent, Jr., 13 grandchildren and 13 great grandchildren. Adele was preceded in death by her siblings: Leah Burnell, Leona Wagner, Donna Fasching and Corona Parent.

Adele grew up in the town of Pequaming on the shores of Lake Superior on Michigan's Upper Peninsula. The entire town and it's sawmill were owned by Henry Ford. Adele loved her life there and spoke of it often. She met her husband Everett in San Francisco during World War II. Everett was on a brief liberty from the USS Yukon. In 1945 they were married in Portland Oregon, the town her family had relocated to after the sawmill in Pequaming closed down.

Eventually, Adele and Everett moved to Bushwood where she raised four children and developed many life-long friendships. She was an active parishioner at Sacred Heart Church, where attending daily mass became a big part of her life. She loved her family, her friends, her church and her home; she enjoyed reading mysteries, cooking, traveling to see her family in Minnesota and Oregon and she loved to laugh. She was well known for her fried oysters and crab cakes, her humor and her generous and caring heart. After growing up on Lake Superior, one of the coldest areas of the United States, Adele never got used to the humidity and summer heat of Maryland, however it didn't stop her from loving her life in Bushwood.

The family will receive friends on Wednesday, May 18, 2016 from 5:00 PM - 8:00 PM in the Mattingley-Gardiner Funeral Home chapel with prayers recited at 7:00 PM. A Mass of Christian burial will be celebrated on Thursday, May 19, 2016 at 10:00 am in Sacred Heart Catholic Church, Bushwood, MD with Fr. Anthony Lickteig officiating. Interment will follow in the church cemetery. Arrangements provided by Mattingley-Gardiner Funeral Home.