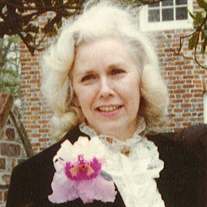 Frances Alberta "Bert" (Barger) Jarrett, 85, of Nanjemoy, Maryland died May 9, 2016 at her residence.

Bert was a loving wife, mother, homemaker, and a very dear bus driver for Calvin Compton, Sr. and Jr. for two special needs schools (Melwood and F. B. Gwynn Center), high schools and kindergartens. She retired at the age of 74. For many years she was a member of the Women's Mite Society at Durham Church where she also served on the Vestry and Alter Guild sharing her beautiful gift of flower arranging. As a young wife and mother, she was a member of the Homemakers Club (through the Charles County Extension Service).

She was the daughter of Lester LeRoy Smith and Zula Olive Carter Smith. In addition to her parents, she is predeceased by her husbands, Blair B. Barger and John W. Jarrett; her step-mother, "Dot" Smith; her brother, Dennis Smith; her sister, Bettye Cummings.

She is survived by her son, Blair "Bruce" Barger and wife Bonnie; her daughters, Deborah Lee Boyd and husband Thomas, Norma Lianna Ryan and husband Patrick, and Bonnie S. Tyo and husband Robert; her sisters, Margaret Campbell and husband Albert, Leslie Smith, and Jean Edwards and husband Robert; and her brother-in-law, Ken Cummings; her grandchildren, Brian Barger, Allison Eddy, Mark Boyd, Blair Boyd, Ben Hammer, Michael Hammer, Eric Hammer, Alex Tyo, Matthew Tyo, and Katherine Tyo; and her great-grandson, Evan Barger and great-granddaughter, Krissy Davis.

Friends received on Sunday, May 15, 2016 from 4-7PM with prayers at 6:30PM at Raymond Funeral Service Chapel, 5635 Washington Avenue, La Plata, Maryland 20646. Additional visitation on Monday, May 16, 2016 from 12PM until service time at 1PM at Old Durham Episcopal Church in Ironsides, Maryland. Interment at the church cemetery.

Memorials are asked to Ladies Mite Society of Old Durham Church, 8700 Ironsides Road, Nanjemoy, Maryland 20662 or Melwood, 12705 Country Lane, Waldorf, Maryland 20601. Arrangements provided by Raymond Funeral Service.