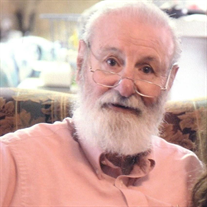 Salvatore Nicholas Desimone, 82 of La Plata, Maryland, died May 5, 2016.

Sal was an administrative officer at St. Elizabeth's Hospital and was a veteran of the U.S. Army. He enjoyed his wife's company, his children and grandchildren, gardening, watching old westerns, reading mystery novels, walking, and trying to make money in the stock market. He was most proud of his loving family. He was also a devoted husband, father, grandfather, and uncle.

He was the son of Vincent Desimone and Jenny Marino Desimone. In addition to his parents, he is also predeceased by his brother, Joseph Churchill.

He is survived by his wife, Rochelle C. Desimone; his son, Bruce N. Desimone; his daughter, Laura M. Porter and husband Andrew; his brother, Anthony Churchill; his sister, Theresa Winnemore and husband Joe; his sister-in-law, Joyce Churchill; and his grandchildren, Elizabeth and Matthew Desimone and Grace Porter.

Friends received on Tuesday, May 10, 2016 from 10am until time of Mass of Christian Burial at 12PM at St. Ignatius Hilltop Catholic Church officiated by Fr. Robert Kosty. Interment in the church cemetery. Arrangements by Raymond Funeral Service in La Plata, MD.