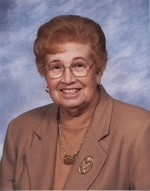 Dorothy "Dotty" Chandler Barclift, 89, of California, MD passed away on May 5, 2016 at the Hospice House in Callaway, MD. She was the daughter of the late Mary Theresa Russell Wilkinson and John Francis Wilkinson.

Dotty was the loving wife of the Henry Moody Chandler and Carlton Turner Barclift who both preceded her in death. Dotty is survived by her children Randy Chandler and Denise King and her step children; Carole Ann Purcell and Curtis Barclift.

Dotty worked for over thirty years as a civil servant, starting in the typing pool in the Supply Department. She was a strong woman working in a man's world and fought hard for women in the workplace. She helped many women go for that "better job" and was proud of her accomplishments.

Throughout her life, Dotty served St. Mary's County. She believed in solving problems in the community and joined many organizations and clubs to accomplish this. She worked tirelessly with her beloved Business and Professional Women's Club, BPW. She was a member of the Lioness Club, Past President of the Hollywood VFD Ladies Auxiliary, Narfe, Friends of Margaret Brent, and the St. Mary's County Commission for Women, who gave her the Lifetime Achievement Award for Outstanding Community Service in 2011.

Her later years were spent at the Wildewood Retirement Community where she served on the activities committee until her health prohibited her involvement. Dotty loved her church and family, she knew how to work hard and she enjoyed life, a lesson that she leaves behind with her friends and family.

The family will receive friends on Tuesday, May 10, 2016 from 5:00-8:00 PM with prayers at 7:00 PM in the Mattingly-Gardiner Funeral Home, Leonardtown, MD. A Mass of Christian Burial will be celebrated on Wednesday, May 11, 2016 at 10:00 AM in St. John's Catholic Church, Hollywood, MD with Father Ray Schmidt officiating. Interment will follow in the church cemetery. Pallbearers will be Chris King, Russell Sullivan, Joe Vankirk, Joe Joseph, Curtis Barclift, and Tony Wilkinson. Contributions may be made to Hospice of St. Mary's. Arrangements provided by Mattingly-Gardiner Funeral Home.