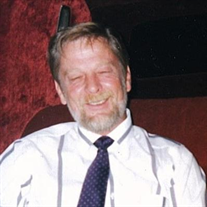 Paul Edwin Ragsdale, 75 of Waldorf, Maryland died Saturday, April 30, 2016 at Southern Maryland Hospital Center in Clinton, Maryland.

Paul was a supervisor of preventive maintenance for 31 years at D.C. Public Works. He loved golf and was a little league coach. He was a devoted husband and father.

He was the son of Hobart E. Ragsdale and Velma B. Muston Ragsdale. He is survived by his wife of 52 years, Serpil Ragsdale; his sons, Jeanpaul and wife Beverley, Sean E. and wife Amy, and Paul A. and wife Zehra; his brother, Jim Ragsdale; his sister, Diane Ball; his grandchildren, Garrett, Tyler, Parker, Kylie, and Maya; and his great grandchildren, Garrett, Sophie, and Dacian.

Friends received on Saturday, May 7, 2016 from 5-8PM with a Memorial Service at 7PM at Raymond Funeral Service Chapel, 5635 Washington Avenue, La Plata, Maryland 20646. Interment on Monday, May 9, 2016 at 1PM at MD Veterans Cemetery, 11301 Crain Highway, Cheltenham, Maryland 20623. Arrangements provided by Raymond Funeral Service.