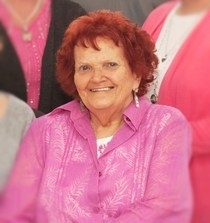 Helen Patricia Hope, 81, of Mandeville House, Waldorf, MD and formerly of Bryans Road, MD passed away on May 1, 2016 in La Plata, MD. She was surrounded by love from her family and friends through her final hour, as she found peace after many months of sickness.

Helen was born on March 29, 1935 in (Bronx) New York to the late Thomas Joseph Patrick Cavanaugh and Nellie Bellsion. She is also preceded in death by her sisters, Josephine and Nancy; and husbands, Richard Donahue and Edward Hope.

Helen is survived by her daughter, Alice Pickett (Larry); sons, Randy Donahue (Paula), Anthony Donahue (Janet) and Scott Donahue (Susan); grandchildren, Allison Folks (Dusty), Terri Nicolau (Tim), Nichole Garner (Brent), JR Donahue, Audrey Donahue and Jon Jon Donahue; nine great-grandchildren and six great-great-grandchildren; sister, Margie Birrittella (nephew, Michael and nieces, Tracy, Kelly and Linda); brother, Johnny Cavanaugh; and her 30-year sister-like friend, Bea Feducia.

She was loved and cherished by all to include her many friends over the years in Maryland where she lived for almost 40 years, her 20-year retirement home in Merritt Island, Florida and across the country as she and Ed traveled many times in their travel-trailer days. Helen had a spontaneous personality and a wonderful laugh; she enjoyed people and just having a good time playing Bingo, Red Hat outings, church gatherings, charity functions, plays, etc. The list of things she enjoyed is vast but they all centered around people.

Helen was a member of the VFW Auxiliary, American Legion and Loyal Order of the Moose for many years and was very active in their activities to benefit veterans and various charitable causes to include under-privileged children. She was a past president of VFW Post 1800 (Indian Head, MD) Auxiliary and very active in the VFW's National Home for Children Charity in those years. In addition, Helen was a member of North Merritt Island's (Florida) United Methodist Church Women's group and very active in their charitable causes for that community.

Helen loved "Country and Western" music and none more so than singer George Jones. In all, whether family, friends or the community Helen exemplified a song by Jones in the words, "She loved a lot in her time . . . she stood in the shadows so others could shine . . . [her] work is done and now she has gone home."

The family will receive visitors on Friday, May 6, 2016 at 11:00 AM at the Arehart-Echols Funeral Home, 211 St. Mary's Ave., La Plata, MD where a Celebration of Life will be held at 12:00 Noon. She will be laid to rest at Trinity Memorial Gardens and Mausoleum, 3221 Mattawoman-Beantown Rd., Waldorf, MD that same day followed by a repast at the American Legion Post 238, Brandywine MD, where refreshments will be served.

In lieu of flowers, please consider honoring Helen's memory by giving a donation to Hope4Nichole at PO Box 344, Newburg, MD 20664, a non-profit breast cancer advocacy group formed in honor of Helen's granddaughter. Arrangements provided by Arehart-Echols Funeral Home.