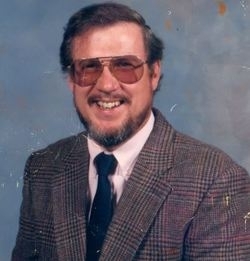 Thomas "Tommy" Carlyle Tanner Jr., 66, of Mechanicsville, MD passed away on Friday April, 29, 2016 in his home. Born April 15, 1950 in Chester, MD he was the son of the late Thomas Carlyle Tanner, Sr. and the late Myrtle Wilhelmina Elise Scheel Tanner.

Tommy enjoyed gardening and playing solitaire. He loved to cook for his family. His specialty was Fried Corn and Three Day Spaghetti and Meatballs. Tommy was educated in the Queen Anne's County Public School System. He received his HVAC certification through the National Apprenticeship of Pipe and Gasfitters. Tommy worked as a Steamfitter for John J. Kirlin and was a member of the local 602 for 43 years, until his retirement in 2010. Tommy was a very supportive member of The Church of Jesus Christ of Latter Day Saints. He was also an avid Washington Redskins fan.

Tommy was predeceased by his parents, Thomas Sr. and Myrtle Tanner; sister, Catherine Judith Anne Tanner; Aunt Mary F. Jewell; Cousin Thomas "Bucky" Jewell and Brother in law, Byron Jeffrey Bell.

Tommy is survived by his wife Renée Bruce Tanner; children Denean Neal-Vinson, Thomas C. Tanner III (Crystal), Joseph R. Tanner (Krystal), André Teague, Carlyle T. Tanner, and Courtenée M. Tanner ( Will Rothenbecker- Fiance); sister Elise Tanner Zajac (Michael); 1 nephew, Mickey Zajac (Nicole); 1 niece Ashley Zajac; 4 brothers in law, James (Marion), William, Michael (Annette), Robert Jr (Jeanne), 2 sisters in law, Robin, Roslyn (Tyrone), Mother and Father in law Robert Sr. and Annie Bruce. In addition to these he leaves to mourn 6 nephews, 6 nieces, 14 grandchildren and 4 great grandchildren.

Family will welcome friends for Tommy's Life Celebration visitation on Friday, May 6, 2016 at the Church of Jesus Christ of Latter Day Saints, 22747 Old Rolling Road, California, MD 20619 from 10:00 AM to 12:00 PM. Services to follow immediately at 12:00 noon. Friends are invited to a repast at the Church following the Memorial Service.

In Lieu of flowers, donations can be sent to the Cleveland Clinic Foundation in memory of Thomas C. Tanner Jr., P.O. Box 931517, Cleveland, Ohio 44193-1655. Arrangements provided by Brinsfield Echols Funeral Home.