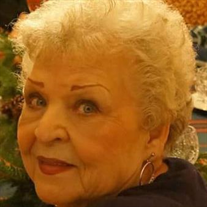 After an extended illness, Lorraine T. Genthert of Dunkirk, MD entered into eternal rest on Monday, May 2, 2016, at the age of 84. Lorraine was born in Wilkes Barre, PA, on October 11, 1931 to Matilda and Benjamin Marasheski. While attending high school in Philadelphia, Lorraine was a majorette and was involved in theatrical productions.

After many years of service, she retired from the CIA. She enjoyed cooking, numerous trips around the world and spending time with her family. She loved making dolls for a Children's Hospital in SC and played some golf in her younger years. For the last ten years, Lorraine has made Dunkirk her home. She embraced the Calvert way of life and was a friend to many. Her love of life and bright smile will be missed.

Lorraine was the loving mother of Jacalyn Schaefer and Edward W. Genthert. She was the devoted grandmother of Christie, Matthew, Melanie, Katie, Eddie, Melissa and Michelle. She was the proud great-grandmother of Gavin, Logan, Jesse, Hannah, Cameron, Alaina, Sophie, Millicent, Samatha, Tyler, Dannie and Kasey.

Arrangements provided by Lee Funeral Home.