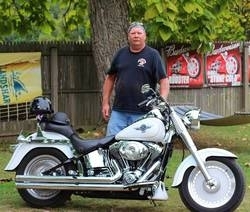 Alan Patrick Norris, 52, of Hollywood, MD passed away April 22, 2016 at MedStar Georgetown University Hospital in Washington, DC. He was born February 28, 1964 in Leonardtown, MD to Ruth Emily Lacey Norris of Hollywood, MD and the late Herbert Eugene Norris, Jr.

Alan attended Leonardtown High School. He was employed as a boat and automobile mechanic and was employed by Fenwick Ford, Bell Motor Company, Aldridge Ford, Harry Lundeberg School of Seamanship, Goose Bay Marina and Bluhaven Piers. Alan enjoyed riding his Harley, but most of all he enjoyed spending time with his family and friends.

In addition to his mother, Alan is survived by wife, Linda Marie Currie Norris of Hollywood, MD; his children, Lisa Marie Norris of Hollywood, MD, David James Yost (Arlene) of Elkridge, MD and William Charles Yost (Ashley) of California, MD his siblings, Larry Eugene Norris (Cora) of Leonardtown, MD, Phyllis Jeanett Anderson (Russ) of Hollywood, MD, Thomas Anthony Norris (Pat) of Valley Lee, MD, John Michael Norris (Lori) of Leonardtown, MD Lois Ann Dill (Ron) of Mechanicsville, MD, Dennis Wayne Norris (Eleanor) of Avenue, MD, Wanda Lee Loheed (Rick) of Valley Lee, MD and Bonnie Sue Van Shoubrouek of Slidell, LA. He is preceded in death by his father.

Family will receive friends for Alan's Life Celebration on Sunday, May 1, 2016 from 2:00- 5:00 p.m., with prayers recited at 4:00 p.m., at Brinsfield Funeral Home, P.A., 22955 Hollywood Road, Leonardtown, MD 20650. A Mass of Christian Burial will be celebrated by Rev. Raymond Schmidt on Monday, May 2, 2016 at 11:00 a.m. at St. John Francis Regis Catholic Church, 43927 St. John's Road, Hollywood, MD 20636. Interment will be private.

Pallbearers will be Knute Crivella, James Bell, Paul Biggs, Robert Tennyson, Ken Blazer and David Dixon. Honorary pallbearers will be Terry Knott, David Norris and Ronald Barnes. Memorial Contributions may be made to Hollywood Volunteer Rescue Squad, Post Office Box 79, Hollywood, MD 20636. Arrangements by the Brinsfield Funeral Home, P.A., Leonardtown, MD.