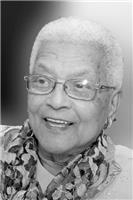 Catherine Delores Shelton Thompson was born February 22, 1918, in Leonardtown, Maryland and died April 27, 2016. She was the fourth of seven children born to John Robert Shelton and Mary (Marie) Henrietta Edelen Shelton. Catherine married Leroy Joseph Thompson on September 26, 1937. From this union, they were blessed with 13 "lovely children".

She was preceded in death by her parents, her siblings, her husband, and a son, Leroy Thompson, Jr. She leaves to mourn her children, Dolores Cooper (James), Alma Jordon, James Thompson, Theresa Turner, Brenda Coates, Joyce Blackwell (Wayne), Robert Thompson, Harry Thompson (Melody), Kendall Thompson (Maureen), Dorothy Waters, Darlene Boggs (Larry), and Robin Johnson. She is also survived by daughters-in-law, Barbara, Yvonne, and Sharon Thompson; sons-in-law, Tommy Waters, Jr. and Eugene Johnson; sister-in-law, Agnes Shelton; 21 grandchildren; 34 great grandchildren; 3 great-great grandchildren; godson, Irving (Ike) Briscoe; and a host of other family.

She was a devout Catholic and maintained a special devotion to the Holy Rosary and Miraculous Medal. A longstanding member of St. George Catholic Church, she attended Mass daily when she could. She was also a member of the Catholic Daughters of the Americas.

In addition to raising 13 children and managing Happyland Club (a family business), she was an active member in a number of community organizations such as the 2nd District Fire Department Auxiliary, Pride of St. Mary's Temple IBPO of Elks, and the Big Foot Helpers Club. She volunteered for the 4-H Club, the Valley Lee Homemakers Club, Mary's Song Soup Kitchen, the Office on Aging, the St. Mary's Nursing Center, Piney Point Elementary School, and the St. Mary's County Department of Social Services. Her many hours of service were honored with certificates and recognition. In 1990, she received a special proclamation from the St. Mary's County Commissioners where she was proclaimed "Queen for a Day" because of her abundance of love, commitment to the community, and willingness to help.

Very competitive, she loved playing softball and many card and board games. She was a master crafter. She made patchwork quilts (especially for children and grands), bibs and lap blankets for nursing home patients, and "time out" dolls. She collected salt and pepper shakers, teapots, and dolls. Her doll collection numbered into the hundreds at one time. Matriarch Catherine Thompson was a remarkable woman. She was an adoptive mother to nieces, nephews, and friends who had lost their own mothers. She reached out to everyone and made them feel like family. There were no strangers in the Thompson home.

Family will unite with friends on Tuesday, May 3, 2016 for visitation from 9:00 am until Mass of Christian Burial at 10:30 am at St. George's Catholic Church, 19199 Saint Georges Church Road, Valley Lee, MD 20692. Interment will follow at the church cemetery. In lieu of flowers, donations can be made to Hospice of St. Mary's or the Second District Volunteer Fire Department and Rescue Squad, Inc., Valley Lee, Maryland, in Memory of Catherine Thompson. Arrangements provided by Briscoe-Tonic Funeral Home.