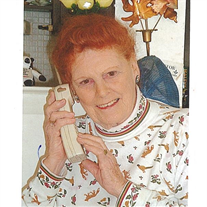 Ann Katharine Bennett, of Waldorf, Maryland died on April 25, 2016 at the Genesis Healthcare Center in La Plata. She was 94 years old. Born on August 22, 1921 in New York City, New York, she was the daughter of the late Katharine Friedlich Geiger and the late Milton Geiger.

Mrs. Bennett was a member of the American Women's Voluntary Services during World War II, maintaining the library at Pomona Naval Air Station twice a week. She belonged to the VFW Post 2562 Auxiliary and the American Legion Auxiliary, Cisel Saxon Post, both in Silver Spring. She transferred memberships to VFW Post 8810 Auxiliary serving as Conductress and to American Legion Post #93 Auxiliary, both in Waldorf.

She was also a member of the Military Order of the Cooties Auxiliary, Pup Tent #5 of Silver Spring, MD and a Past Worthy Matron of Chillum Castle #115, Order of the Eastern Star and also of St. Columba #92, La Plata. She was a past member of the Waldorf Lioness Club and Waldorf VFD Auxiliary. She retired from the International Correspondence Schools of Scranton, PA and was an Election Judge for the Election Board. She also attended classes at the Richard R. Clark Senior Center.

In addition to her parents, she was preceded in death by her husband, Harry Bennett; daughter Doreen Marie Bennett. She is survived by three sons, Ronald F. Imbrogno, Carl Surran Bennett and Timothy Irwin Bennett; two daughters Katharine Theresa Lynch and Deborah Ann Berges; also survived by eight grandchildren.

Visitation from 10AM until time for Mass to begin at 11AM on Wednesday, May 4, 2016 at St. Peter's Catholic Church 3320 St. Peter's Drive, Waldorf, Maryland 20601. Interment to follow in the church cemetery. Arrangements provided by Raymond Funeral Service.