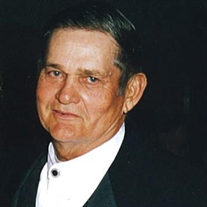 Leslie Thomas Burch, of La Plata, Maryland died on Saturday, April 23, 2016 at George Washington University Hospital in Washington, DC. He was 83 years old. Born on May 8, 1932 in St. Mary's County, Mr. Burch was the son of the Kathleen Emma Morgan Burch and the late James Ecton Burch.

Mr. Burch owned and operated Burch's Garage in Newtown which specialized in recycling. He was a member of the Moose and enjoyed fishing and dancing.

In addition to his parents, Mr. Burch was preceded in death by his brothers Theodore, Leo, David and Bernard Burch. He is survived by his wife Betty Ann Burch; children Ronnie Burch, Sally Reed and her husband Ron, Elizabeth May and her husband Fred, Judy Read, Leslie Burch Jr., Billy Burch, Debbie Bowles and her husband Tony, James Burch and his wife Bonnie; siblings Josephine Taylor, Mae Goldsmith, Bobby Burch, Carroll Burch, Jeanie Lynch and Pearl Joy; 12 grandchildren and 15 great grandchildren.

Visitation on Tuesday, May 3, 2016 from 2PM to 4PM and from 6PM to 8PM with service at 7:00PM at Raymond Funeral Service, P.A. 5635 Washington Avenue La Plata, MD 20646. Interment will be private. Arrangements provided by Raymond Funeral Service.