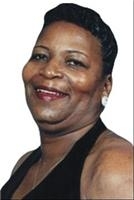 Mary Otelia Barnes, 67, of Lexington Park, MDdeparted this earthly life surrounded by loved ones on April 23, 2016.

Mary received her education in the St. Mary's County public school system. She enjoyed a career as a cook for many years prior to serving as a Group Home Worker with Freedom Landing (now known as Pathways). Mary's passions were cooking, caring for the sick and elderly, spending time with family, listening to gospel music, and watching the Washington Redskins with her husband.

To cherish loving memories, Mary leaves her husband of 31 years, William Rhody Barnes, Jr; her son, Sherman F. Woodland; stepson, Lester Barnes, Sr.; two stepdaughters, Marie Herndon and Brenda Barnes; seven sisters, Mary Woodland, Alean Whalen, Betty Reddix, Lillie Jordan, Lettie Howard, Geraldine Adams, and Elaine Jordan; one brother, Roy Dyson; four brothers-in-law; Wayne Howard; Sam Jordan, Louis Jordan, and James Adams; one sister-in-law, April Dyson; four grandchildren, Sasha Bryan, Rodney Rich, Francine Woodland, and Donta Simmons; four step-grandchildren, Shawntia Barnes, Marteea Barnes, Lester Barnes, Jr. and Glenn Fenwick, Jr.; and a host of nieces, nephews, cousins, and friends.

Funeral services will be held at St. Cecilia Church, 47950 Mattapany Road, St. Mary's City, MD on Friday, April 29, 2016; viewing 10:00-11:00 and Mass 11:00-12:00. Interment will follow at Our Lady's Church at Medley's Neck Cemetery, 41348 Medley's Neck Road, Leonardtown, MD. Arrangements provided by Briscoe-Tonic Funeral Home.