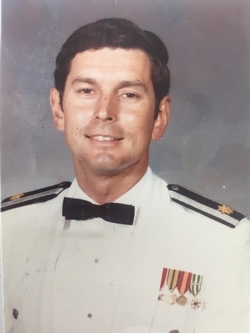 Andrew "Tim" Timko passed away peacefully on April 21st at home with his loving wife Sandra by his side. Tim bravely fought the challenges of a stroke for a number of years before ultimately succumbing.

Born a steelworker's son in Pittsburgh on January 31st, 1945 to Andrew Timko and Mary Banyas Timko, Tim grew up in the suburbs of Swissville and attended St Anselm High School (class of 1962). Tim was the middle of two brothers, being bookended by Ron and Larry Timko. Tim attended Duquesne University and graduated with a degree in Business Administration in 1967.

Shortly after graduating, Tim was commissioned as a second lieutenant in the United State Air Force in May of 1967. One of his first duty assignments was at Chanute Air force base outside of Champaign, Illinois where he met the love of his life, Sandra Marie O'Neill. They married in August of 1968 at St. Thomas Church in Philo, Illinois.

In July of 1970, he was transferred to Udorn Royal Thai Airbase (Thailand) and served as a staff maintenance officer of the 40th Areospace Rescue and Recovery Squadron. He transferred to Hickam Air Force Base, Hawaii in 1974 and assumed the position of organizational maintenance officer for the 6594th Test Group. In 1982, Colonel Timko was reassigned to the NATO Airborne Early Warning and Control Program Management Agency, Brunssum, The Netherlands as chief of maintenance engineering for the NATO E-3A aircraft.

Tim retired from the Air Force in 1993 after his final assignment at the Pentagon where he served as Deputy Director of the Air Logistics Division of the Air National Guard Bureau. Tim attempted to retire, but after a few months of watching daytime TV he reentered the workforce at the Logistics Management Institute in Tysons, Virginia until 2011.

Away from work Tim loved spending time with his family, which he adored. As his sons grew up, Tim was a constant presence on the sidelines of whatever the sporting season dictated, either as a coach or a parent volunteer. Tim and Sandra developed a love of travel that lasted throughout their time together. They were frequent visitors to Europe and Hawaii. They also made trips to Africa, the Caribbean and Central America. Though Sandra was the love of his live…his not so secret mistress was the Pittsburgh Steelers.

Tim leaves behind a legacy of family memories and love. He is survived by his wife of 48 years, Sandra; two sons, Mark (and Michele), Brian (and Stephanie) and four grandchildren, Connor, Scott, Riley and Alyssa; brothers Ron (and Cheryl) and Larry (and Judy) Timko; and numerous nieces and nephews.

Arrangements provided by Rausch Funeral Home.