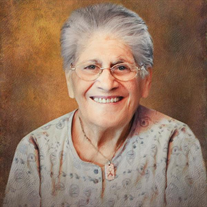 Theresa Martha Mlinac, our "Sita", of La Plata, Maryland passed away peacefully on Wednesday, April 20, 2016 at the age of 88. Born November 3, 1927 in Sydney, Nova Scotia, Canada she was the daughter of the late Joseph and Shaffica Abbass.

She was a homemaker and her loves in life were her husband, children, and grandchildren. Family was the most important aspect of her life.

Theresa is survived by her loving husband of almost 60 years, Mark Anthony Mlinac, Sr. Being a military wife, Theresa traveled to different countries with Mark including Okinawa and Germany. They were actively involved in the base's bowling leagues where they won several bowling championships.

Additionally, Theresa, "Sita" is survived by her son Mark Anthony Mlinac, Jr. and daughter-in-law, Maryann Faith Mlinac of Palm Coast, Florida, daughter Lorraine Elizabeth Back and son-in-law, C. Keith Back of La Plata, Maryland, and son Gary Joseph Mlinac of Boston, Massachusetts.

"Sita's" delights in life were her grandchildren, Matthew Alan Mlinac, Marleigh Anne Mlinac, Krista Faith Back, Eleni Nicole Back, and Madison Andrew Mlinac. According to Sita, she had the best grandchildren and was so proud of each of them.

In addition to her parents, Theresa was preceded in death by two of her siblings, George and Edna Abbass. Her surviving siblings include twin sisters Carrie Abbass and Thelma Bourque, Marlene Webber, and Sr. Lorraine Abbass of Canada. Other surviving relatives include many cousins, nieces, and nephews.

Theresa was loved by so many family and friends and her smile and love will be missed by many.

Friends received on Wednesday, April 27, 2016 from 2-4PM and 6-8PM with Wake Service at 7PM at Raymond Funeral Service Chapel, 5635 Washington Avenue, La Plata, Maryland 20646. Mass of Christian Burial on Thursday, April 28, 2016 at 10:30AM at Sacred Heart Catholic Church, 201 St. Mary's Avenue, La Plata, Maryland 20646. Interment to follow at 12:30PM at MD Veterans Cemetery, 11301 Crain Highway, Cheltenham, Maryland 20623. Memorial contributions may be made to the National Kidney Foundation, Finance Department, 30 East 33rd Street, New York, NY 10016. Arrangements provided by Raymond Funeral Service.