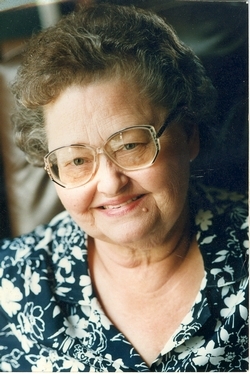 Betty Kern Robinson Freesland, 87, of North Beach, MD passed away April 15, 2015 at Anne Arundel Medical Center in Annapolis, MD. Betty was born May 15, 1928 in Washington, D.C. to David Kern and Thelma K. (Soper) Robinson.

She was raised in The Willows community in Calvert County, attended public schools and graduated from Calvert High School in 1946. She attended Mary Washington College in Fredericksburg, VA, and was later employed as a typing pool supervisor with the FBI in Washington. She married Jacob William Freesland on December 11, 1954, and they resided in North Beach where she raised her family.

Betty served from 1962 until 1999 as the North Beach Town Clerk. She was active in local community and Municipal affairs during her 37 year tenure. She was a member of North Beach Union Church, and was a charter member of the North Beach VFD Ladies Auxiliary. She served on the North Beach House and Garden Tour Committee, and was active in school activities with her children and grandchildren. Betty enjoyed her pet cats, holidays, especially Christmas, cooking, sporting events, and time with her family.

Betty was preceded in death by her parents, husband Jacob W. Freesland, Jr., and a grandson Jacob W. Freesland IV. She is survived by her son J. William "Billy" Freesland III and wife Ruth Ann of North Beach, a daughter Deirdre Michelle Weissmueller and husband Mike of Owings; grandchildren Alexandra and Kern Freesland, Tracy Sweeney, Tina Bourg, and Michael Weissmueller. Also surviving are eight great-grandchildren, and sisters Faye Fuschina, Nancy Walton, Sheryl Williams, and Marsha King.

Arrangements provided by Rausch Funeral Home.