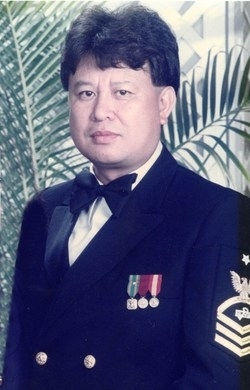 DKCS Jaime Biasbas Villanueva, Sr. (USN, Ret.), 66, of Leonardtown, MD passed away, Wednesday, April 13, 2016 at his home surrounded by his loving family. Jaime was born on October 20, 1949 in Baguio City, Philippines to the late Braulio Villanueva and Zosima Villanueva.

On January of 1974, Jaime proudly enlisted in the United States Navy and dedicated over 20 years of service until his retirement in June of 1994 as a Senior Chief Petty Officer. He continued to serve his country through the National Reserves. He was employed over ten years as a Deputy Disbursing Officer for the Federal Government and with the Transportation Security Administration as a budget analyst until his retirement in 2009.

On February 13, 1975, Jaime married his beloved wife, Brenda S. Villanueva in Newark, NJ. Together they celebrated over 41 wonderful years of marriage. They enjoyed travelling with the Navy with one of their favorite duty stations being NAS Bermuda. They were also stationed in Keflavik, Iceland, Newport, RI, Brunswick, ME, and Patuxent River, MD. Their love for travelling continued into retirement, visiting destinations like Italy, France, Greece, Spain, Germany, China, the Southern Caribbean and Alaska.

Jaime was an extraordinary cook and a grill master. He was a master chef of many of his favorite Filipino cuisines that his sons and family thoroughly enjoyed. He was a beautiful and talented singer and loved playing the guitar for his family. He was an avid golfer who enjoyed teaching his son Carlo who was better. He was Tom Cruises self- proclaimed twin. He was a great leader and public speaker and always gave the family blessings at dinners and special occasions. At his son Jaime's wedding he sang a special childhood song to him and gave a wonderful loving speech. His family was his greatest accomplishment and he treasured his time with them, especially his granddaughter, Abigail.

In addition to his beloved wife, Jaime is also survived by his sons, Carlo Villanueva of Chevy Chase, MD and Jaime Villanueva, Jr. and his wife Angela Villanueva of Lexington Park, MD; his siblings, Lilia V. Sison of Leonardtown, MD and Ronnie Villanueva of Middletown, NY; George Villanueva of Midland Park, NJ and his granddaughter, Abigail Villanueva daughter of Jaime and Angela Villanueva. In addition to his parents, he is also preceded in death by his brother, Fred Villanueva.

Family will receive friends on Sunday, April 17, 2016 from 2:00 - 5:00 p.m., with prayers recited at 4:00 p.m., at Brinsfield Funeral Home, P.A., 22955 Hollywood Road, Leonardtown, MD 20650. A Mass of Christian Burial will be celebrated by Reverend David Beaubien on Monday, April 18, 2016 at 11:00 a.m. Interment will be held at a later date at Arlington National Cemetery.

Serving as pallbearers will be Carlo Villanueva, Jaime Villanueva, John Alex Sison, Michael Villanueva, George Villanueva, and Ritchie Villanueva. Arrangements by the Brinsfield Funeral Home, P.A., Leonardtown, MD.