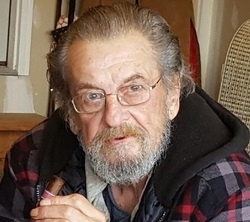 William Bertram Rowe, 75, of Mechanicsville, MD passed away on April 12, 2016, at his home surrounded by his family. He was born on January 17, 1941 in Rochester, NY to the late Sanford M. Rowe and Avis Blossom Chamberlain.

William proudly served in the United States Army for 14 years as a Sergeant until his honorable discharge in 1978. During his service he earned the National Defense Medal and the Good Conduct Medal (2). He was employed for over 20 dedicated years with Trucking America, was a commercial truck driver and mechanic until his retirement.

William is survived by his children, Donna N. Rowe-Clohessy of Mechanicsville, MD, Debbie Horton of Red Rock, TX, Lori Sarvis of Yoakum, TX, Tammy Farmer of Yoakum, TX and Shirley Sue O'Gorman of Kohler, WI; his siblings, Sandra Vavonese of Rochester, NY, Ellen Rowe Smith of Largo, FL, Carolyn Rowe Selsor of St. Petersburg, FL, Michael Rowe of Largo, FL, James Rowe of St. Petersburg, FL, Mitchell Rowe of Rochester, NY, Matthew Rowe of Rochester, NY, Victoria Wehbring of Rochester, NY and Abby Freeman of Rochester, NY; 14 grandchildren; 9 great grandchildren and many extended family and friends.

In addition to his parents, he is also preceded in death by his wife, Patricia A. Huntsman and his daughter, Patricia A. Rowe. All services will be private. Arrangements by the Brinsfield Funeral Home, P.A., Leonardtown, MD.