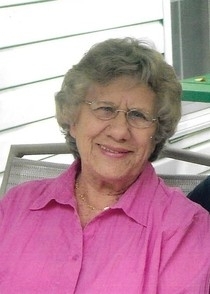 Joanne Marie Goad, 83, of Owings, MD passed away peacefully in her home on April 13. Joanne was born Aug. 12, 1932 in Newport News, VA. She was the daughter of a Navy Captain. She and her 3 siblings lived in Pennsylvania, Wisconsin, Minnesota, and Maryland.

While in Duluth, MN Joanne remembers going out on the new navy ships on Lake Superior for trial runs. She remembers her mother practicing breaking champagne bottles, to prepare for christening ships. She also remembers climbing up frozen waterfalls in her ice skates. Joanne loved winter sports, and also enjoyed tap dancing and piano lessons.

Joanne and Alfred were married on October 21, 1950. They built a house together in Beltsville, MD. Shortly after that, they moved to Gaithersburg, MD where they lived for 25 years and completed their family of 8 children. In her spare time (ha!), she loved to read, do crossword puzzles, and play word games. Scrabble was her favorite game, and it is only fitting that she passed away on April 13, which is "National Scrabble Day!"

In 1984, Joanne and Alfred moved to Calvert County. They had their home built with several things in mind: a 3-acre lot in the woods, with a creek, was the perfect setting to entertain active grandchildren. However, it is questionable whether it was the grandchildren or Joanne who had more fun! Joanne certainly logged in many hours toward her own "land improvement" projects. Another favorite part of their house was the "hideout" room, a hidden upstairs alcove with toys and treasures, built just for little ones.

When she wasn't playing with her grandchildren, Joanne was volunteering to help others. Every Tuesday, she worked at "Help Association," a local thrift shop. She loved being a part of this non-profit organization to help families in need. But the best part about moving to Calvert County was the new "family" they met at Grace Brethren Church.

Joanne and Alfred quickly formed many close, lifelong friendships. Joanne continued her habit of service to others, teaching the 2's and 3's class, working at VBS, cleaning the church, giving rides to church members, and preparing many, many meals for others. She was known for her cooking "secrets," such a using lots of butter and salt!

Although Joanne's own family was very large, she multiplied her love to include just about everyone she met! Above all, Joanne loved her Lord, and wished for others to know the "peace that passes understanding" that only comes from Him. Her favorite verse was 3 John 4: "I have no greater joy than this; to hear of my children walking in the truth."

Joanne is survived by her beloved husband of 65 years, Alfred L. Goad. She was the devoted mother of Dianne (Earl) Godfrey, Tom Goad, Bruce (Gail Cox) Goad, Laura (Jay) Hollinshead, Carol (Brad) Abell, Alan (Gail) Goad, Teresa (Bill) Bedell, and the late Andy Goad. She was the admired grandmother of 26 grandchildren and 28 great-grandchildren. She is also survived by brothers Charles Hartman and Joseph Hartman, and sister Patricia Mara.

In lieu of flowers, contributions in memory of Joanne can be made to Grace Brethren Church, 9870 Old Solomon's Island Road, Owings, MD 20736 or the HELP Association, 1260 Mt. Harmony Road, Owings, MD 20736. Arrangements provided by Raymond Wood Funeral Home.