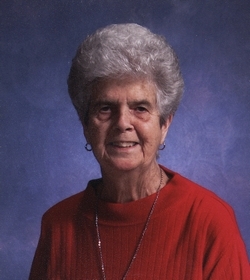 Lois Marie (Delahay) Russell, 81, of Compton, MD passed away on April 10, 2016 at St. Mary's Nursing Center surrounded by her loving family. Born on February 6, 1935 in Washington, DC she was the daughter of the late George Wilmer Delahay and Veva (Leach) Delahay. She was preceded in death by her loving husband, Joseph P. Russell, Jr. with whom she shared 54 years of marriage before he passed on August 13, 2007.

She is survived by her 4 children; Lois Ann & (Dale) Springer of Valley Lee, MD, Joe Mike Russell of Port Orange, FL, Brenda & (Tommy) Unkle of Park Hall, MD, and Tina Russell of California, MD. In additions, she is survived by her 3 grandchildren; Jennifer & (Andy) Shizak of Lusby, MD. Jeffrey & (Brandy) Springer of Valley Lee, MD and Brian Unkle of California, MD, and her 6 great – grandchildren; Kyle and Elizabeth Shizak, JJ and Kendal Springer, Sydney Mooney and Sam Doucette. Lois is survived by her sister, Teeny & (Eddie) Kennett, her sister in law, Judy Delahay and her sister in law Kackie & (Bruce) McCurdy. Lois was preceded in death by her siblings; Dorothy Leahy, Eleanor Delahay, George Delahay and Jimmy Delahay.

She formerly worked as a store clerk for 28 years at Don's Superette store in Compton, MD. She then began her career at the Naval Air Station Patuxent River Commissary Store in September, 1981. In August 1990 she worked at St. Inigoes Webster Field. She retired from NAWCAD, Patuxent River, MD in February 1997.

Lois loved to shop especially at Wal-Mart. She enjoyed going to the tractor pulls with Joe and their "John Deere" Friends. Her hobbies included riding her John Deere bicycle, walking, exercising at the Ladies Express and socializing at McDonald in Leonardtown, MD. Mostly, she enjoyed spending time with loving family and closest friends. She was a devoted catholic and an active member of the St. Francis Xavier Church where she always helped out selling the raffle tickets at the annual Christmas bazaar.

The family will receive friends on Wednesday, April 13, 2016 from 5:00 PM – 8:00 PM with prayers recited at 7:00 PM in the Mattingley-Gardiner Funeral Home, Leonardtown, MD. A Mass of Christian Burial will be celebrated on Thursday, April 14, 2016 at 10:30 AM in St. Francis Xavier Catholic Church, Compton, MD with Father Thomas Crawley officiating. Interment will follow in Charles Memorial Gardens, Leonardtown, MD. Pallbearers will be; Jeffrey Springer, Brian Unkle, Andy Shizak, Kyle Shizak, George Kennett, and Jackie Lacey.

Memorial contributions may be made to the Newtowne Manor Restoration Fund, 21380 Newtowne Neck Road, Compton, MD 20627 and Hospice House of St. Mary's, P.O. Box 625, Leonardtown, MD 20650. Arrangements provided by Mattingley-Gardiner Funeral Home.