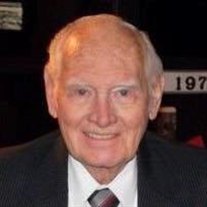 Robert Enos Graham Sr., 84 of Cobb Island, MD passed away on April 8, 2016 at his residence. He was born August 29, 1931 in Washington, DC to the late Turpin and Erma Pumphrey Graham. In addition to his parents he is predeceased by his wife Nancy Carol Graham and two brothers; Kendall Graham and Richard Graham.

He was a general contractor and owner/operator of G&W Floor Covering, Inc. He was a life member of the Lions Club. He was an avid Washington Redskins Fan and loved to watch wrestling and spend time with family and friends. He was his wife's right hand man and supporter of the Girl Scouts troop in which she was the troop Leader. Robert lived for his family.

He is survived by two sons; Robert E. Graham, Jr. and wife Penny and Glenn E. Graham, two daughters; Linda M. Heffron and husband Mark and Sandra G. Rouser and husband Steven, 15 grandchildren, 28 great-grandchildren, one sister-in-law Norma Graham and many nieces and nephews.

A Memorial Gathering will be on Saturday, April 16, 2016 from 1:00PM until time of Memorial Service at 2:00PM at Raymond Funeral Service, P.A., 5635 Washington Ave, La Plata, MD 20646. In lieu of flowers memorial contributions are requested to Cobb Island Volunteer fire Department, 17069 Cobb Island Road, Cobb Island, MD 20625 and/or Hospice of Charles County, 2505 Davis Road, Waldorf, MD 20603. Arrangements provided by Raymond Funeral Service.