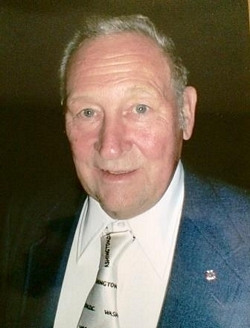 Robert Eugene "Bob" Laughery, 79, of Lusby, MD formerly of Clinton, MD, passed away on April 7, 2016 at his residence. Born September 9, 1936 in Newark, OH he was the son of Delbert H. Laughery and Mildred M. Laughery.

Bob graduated from Newark High School and served in the U.S. Air Force from 1955 until 1959. He married Sharon Joan Smith on August 4, 1956 in St. Paul, MN. Bob worked for the Washington Metropolitan Police Department as a Police Officer from 1961 until his retirement in 1985. He enjoyed fishing, gardening, and photography and was a member of the Knights of Columbus and the FOP.

Bob is survived by his wife, Sharon Laughery; his children, Colleen Thomidis of PA, Lori Ruble (Tom) of Clinton, MD, and Doreen Laurent-Hunt (Bob) of Chicago, IL; five grandchildren; one great-grandchild; and siblings, Pat Moore, Charles Laughery, Delbert Laughery, Sharon McCray, and Tim Laughery. In addition to his parents, Bob was preceded in death by his sisters, Sandy Meier and Lisa Huffman.

Family will receive friends on Sunday, April 17, 2016 from 1:30 until 3:00 p.m. at the Rausch Funeral Home, 20 American Lane, Lusby, MD 20657 where a service will be held at 3:00 p.m. Interment will be on Thursday, April 21, 2016 at 1:00 p.m. at Maryland Veterans Cemetery, Cheltenham, MD. Serving as pallbearers will be Tom Ruble, Robert Ruble, Larry Thomasson, P.J. Curtis, Walter Logan and Richard Osman. Arrangements provided by Rausch Funeral Home.

Robert Laughery lived his life to be a good person, he worked hard and provided for his family. He was a genuine, good-natured man and role model.