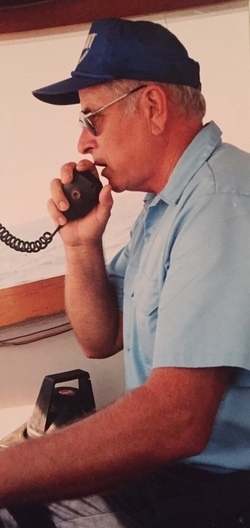 Charles "Babes" William Nicholson, 77, of Dameron, MD passed away surrounded by loving friends and family on April 8, 2016 in the home of his daughter, Amy Goddard. He was born on February 8, 1939 in Catlett, VA to the late Benjamin Nicholson and Belinda Day Nicholson.

In October 1970, Charlie married his "soul mate", Antonia "Toni" May Repici. Together they celebrated over 34 years of marriage before her passing in August, 2005.

In his younger years, Charlie was employed by Trailways as a driver where he met Toni who was a bus attendant. After leaving Trailways, Charlie pursued his dream of becoming a Charter Boat Captain and lived that dream for over 40 years. Charlie was also employed by DynCorp where he was the coxswain of a large vessel designed to support the naval air station in various training missions in the Patuxent River and Chesapeake Bay.

Charlie was an excellent craftsman, where he made custom furniture, fishing rods, and most notably built his own 42' fishing boat which he lovingly named "Antonia II." He enjoyed traveling to Florida during the winter, and most recently enjoyed a trip to California. Other hobbies include playing cards, BINGO, and spending time with his very best friend, his dog Captain.

He is survived by three brothers Benjamin Nicholson (Thelma) of VA, Edward Nicholson (Mary) of FL, and Roy Nicholson (Peggy) of VA, and one sister Joy Ferris (Herman) of VA; four daughters Linda Dreibrodt (David) of TX, Sharon Kahn (Kenneth) of TX, Amy Goddard (Stephen) of MD, and Christine Bechtel (Stephen) of MD; and seven grandchildren Canaan Dreibrodt (Molly), Colson Dreibrodt, Jeremy Kahn, Benjamin Kahn, Antonia Bechtel, Alex Goddard, and John Bechtel. In addition to his parents he is also preceded in death by his wife, Antonia May Nicholson.

Memorial contributions may be made to Hospice of St. Mary's County, P.O. Box 625, Leonardtown, Maryland 20650 or online using http://www.hospiceofstmarys.org/ways-to-give. Arrangements by the Brinsfield Funeral Home, P.A., Leonardtown, MD.