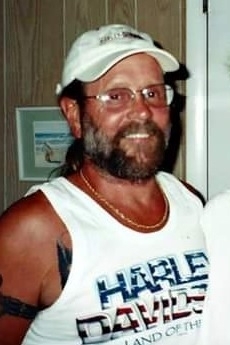 Glen Howard Butler, 64, of Port Republic, MD left this world to ride his Harley eternally in heaven on April 7th, 2016. Glen was quite a character and for a man of few words, everyone sure did know their place! He left an impact on everyone he met. Maybe it was his keen fashion sense of flannels and riding boots, or his loud booming attitude but he was one of a kind.

Glen was a fun-loving husband, father, grandpa, brother and uncle who was never afraid to just be himself. He enjoyed spending time with his grandchildren and many friends from riding buddies, to the OC crew to his great SC neighbors. He lived by several life mottos, among them: "Accept the things you cannot change" and to live life "one day at a time".

On the daily, Glen was a hard working master carpenter at George Washington University. He often had a pencil behind his ear and a hammer on his belt. When he wasn't building he was riding his Harley, tickling his grand kids or building them a tree house, advising his daughter's how to get the most out of life and "bantering" with the love of his life. He will truly be missed.

Glen was born on May 2nd, 1951. He is preceded in death by his parents, Randolph and Alma Butler and his brother, Wayne Butler. He is survived by his loving wife Beth Butler, daughter Lisa Butler, daughter Bonnie Brown and husband James Brown. Granddaughters Amber Butler and Brooke, Chloe and Courtney Brown, Grandson Garret Murphy, and Great Granddaughter Unique Bland.

The family will receive relatives and friends on Tuesday, April 12th, 2016 from 5 - 8 pm and Wednesday, April 13th, 2016 from 10 - 11 am at St. John Vianney Catholic Church, 105 Vianney Ln, Prince Frederick, MD 20678. A funeral mass will be offered at 11 am. Interment will follow at Resurrection Cemetery, Clinton, MD. In lieu of flowers, donations in Glen's name can be mailed to Calvert Hospice, PO Box 838, Prince Frederick, MD 20678 or online at www.calverthospice.org. Arrangements by Rausch Funeral Home, Port Republic, MD.