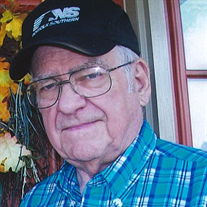 Hubert "Tex" Wilburn Hendricks Jr., 82, of La Plata, MD passed away after a short illness on April 4, 2016 at Virginia Hospital Center. He was born March 12, 1934 in Charlotte, NC to the late Hubert Wilburn and Cora Lee Cochran Hendricks, Sr.

Until he retired in 2004, Tex served as museum security supervisor at The Smithsonian Institute in Washington, D.C. When not securing our nation's treasures, Tex spent his time pursuing his passion for all things locomotive. A lover of classic film and model trains, he never forgot his years serving his country and the US army honorably in Korea. With a smile and a well woven yarn, he entertained friends and strangers alike with fascinating stories of his only years spend outside of Washington.

Along with his parents he is predeceased by his loving wife of 50 years Janice Elaine Hendricks. He is survived by two loving daughters; Leigh Ann Hendricks and Nancy Hendricks Kupiec and her husband John; one son; John Allyn Hendricks and his wife Deborah Kelley; two grandchildren Kelly and Rebecca Hendricks; two sisters; Constance Hendricks Buccella and Carol Hendricks Sandall; four nieces and nephews; companion Nancy Hobson and many friends.

A visitation will be held on Monday, April 18, 2016 from 10:30AM until time of service at 12:30PM at Raymond Funeral Service, P.A. 5635 Washington Ave, La Plata, MD 20646. Interment will follow at Cheltenham Veterans Cemetery, 11301 Crain Highway, Cheltenham, MD 20623. In lieu of flowers Memorial Contributions may be made to the American Diabetes Association, http://www.diabetes.org or mail to P.O. Box 1145, Alexandria, VA 22312. Arrangemnets provided by Raymond Funeral Service.