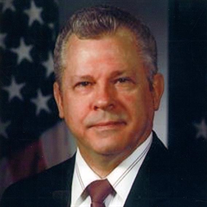 Joe G. Lineberger passed away peacefully on April 6, 2016 in La Plata, MD of natural causes. Born on March 21, 1931 in Maiden, NC to the late George and Georgia Lineberger. Beloved husband of predeceased Helen (Gillies) Lineberger; they were married 49 years.

Joe received his Bachelor of Arts degree from Duke University, NC in 1953 and his Masters of Business Administration degree from the University of Chicago, IL in 1963. Having an accomplished career in the United States Air Force from 1953-1980, Joe's overseas assignments included Thule Air Base, Greenland; Pepperrell Air Force Base, Newfoundland; Exchange Duty with the Royal Canadian Air Force in Ottowa; and Headquarters Military Assistance Command, South Vietnam. During his military career Joe was awarded the Legion of Merit with two oak leaf clusters, Bronze Star Medal, Meritorious Service Medal, Vietnam Service Medal, and Republic of Vietnam Campaign Medal.

After retiring from the military in 1980 as a Colonel, Joe became the director of the Air Force Review Boards Agency, Office of the Secretary of the Air Force for Manpower and Reserve Affairs. He led the agency in its mission to correct errors and injustices in military records. Joe took great pride in three accomplished cases awarding Medals of Honor to Air Force Staff Sergeant William Pitsenbarger, Marine Corporal Anthony Casamento, and Chief Master Sergeant Richard Ethchberger. Along with his success was getting veterans benefits for the Women Air Force Service Pilots, Flying Tigers, Merchant Marines, and Tuskegee Airmen who served in World War II. His civilian awards included Air Force Association Citation of Honor, Air Force Recognition Award, Meritorious Civilian Service Award, Exceptional Civilian Service Award, Air Force Organizational Excellence Award, and the Spirit Service Award, retiring in 2012 after 64 years of service. His career spanned 11 presidents, 17 chiefs of staff, and 20 secretaries.

In Joe's honor, The Joe G. Lineberger Excellence Award was created on behalf of the SAF/MR recognizing military and civilian personnel whose service exemplifies the vision of being the primary catalyst for change, leading the Air Force in adapting how it thinks, organizes, trains, equips, and develops its people for the challenges of the 21st century, the vision to maintain a standard that places the civilian and military member first, and marks the agency as a model and "Air Force Center for Excellence," and the AFRBA goals of ensuring due process, equity, fairness, and impartial treatment of all individuals affected by policies of adjudications within the SAF/MR area of responsibility.

Surviving are his children, children's spouses, and grandchildren: JoAnn Boyle (Garth, Brian, and Pam); Lisa Seligman (Chip, Ethan, Wyatt, and Sydney); Kati Mansfield (Tom, Matt, Hayley, and Andy); Joe Lineberger (Donna, predeceased Shannon, and Garrett); and Paul Lineberger (Lisa, Kelsey, and Cami). Joe's sisters, Janet Cloninger, Pat Waddell (Maurice), and Marilyn McRee (Jim), predeceased Ovida Barber.

A special thank you from our family to Theresa, Pat, and the Sage Point Garden Assisted Living staff at 121 Morris Drive, La Plata, MD, our angels on earth. Thank you also to Hospice of Charles County.

A private service will be held at Lee Funeral Home in Clinton, MD and a private burial at Resurrection Cemetery in Clinton, MD. In lieu of flowers, donations may be made in honor of Joe G. Lineberger to USAF Pararescue Association, c/o Mr. Chuck Morrow, PO Box 1746, Woodbridge, VA 22195. Arrangements provided by Lee Funeral Home.

"Old soldiers never die, they simply fade away."