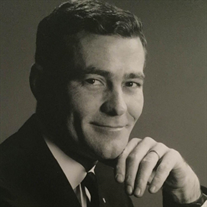 John W. Ballenger Jr., 90, of Dunkirk, MD formerly of Hyattsville, MD and Washington, DC passed away peacefully surrounded by his family on Tuesday, April 5, 2016. John was born in Washington, DC on March 15, 1926, to Bernardine (McCann) and John Wister Ballenger, Sr.

He served in the U. S. Navy during World War II from 1943 to 1947. From 1961 to 1970 he was a Seabee. For many years, he worked as a Master Plumber with Local #5 in Washington, DC. The next 13 years he worked at the Government Printing Office, retiring in 1973. John was a member of the Masonic Westgate Lodge.

John was the beloved husband of the late Martha (Faircloth) Ballenger. He was the loving father of Susan Ballenger and her husband Larry, and Linda Brook. He was the devoted grandfather of five grandchildren, four great-grandchildren and one great-great-granddaughter. He is also survived by his sister Bernadine Spina, numerous nieces, nephews and other family members. He is preceded in death by his sister Mary Catherine Henderson.

Interment and military honors will be held at Maryland Veterans Cemetery in Crownsville, MD on Friday, April 8 at 11:30 am. Arrangements provided by Lee Funeral Home.