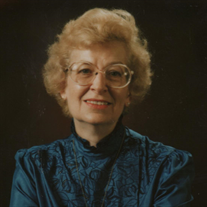 Mary "Rita" (Wells) Hooker, 88, of Solomons, MD formerly of Mechanicsville, MD passed away peacefully surrounded by family, on Monday, April 4, 2016. Rita was born in Lapstone, Upper Marlboro, MD on July 6, 1927 to Kathryn Moran (Roeder) and Joseph Arthur Wells. She attended Notre Dame Academy High School in Washington, DC, graduating in 1945 and Columbia Art School in Washington, DC, graduating in 1947.

She worked for Esther Shop in Washington, DC as a Graphic Artist and for the USAF Pentagon in Washington, DC as a Graphic Illustrator. In the mid 1950's, she was an organist and member of the choir at St. Margaret's Catholic Church in Seat Pleasant, MD. She was an accomplished artist and musician. She enjoyed gardening, oil painting, playing the piano, sewing and crossword puzzles.

Rita was the beloved wife of the late Andrew Clifford Hooker, who passed away in 1969. She was the loving mother of Don Hooker of Dunkirk, MD, Dennis Joseph Hooker of Mechanicsville, MD and the late Charles Allen Hooker, who passed away in 2002.

She was the devoted grandmother of Andrew Denham Hooker of Edgewater, MD, Sarah Elizabeth Hooker Petska of Owings, MD, Dylan Eric Hooker of Newport Beach, CA, Kevin Dana Hooker of San Diego, CA, Brittany Leigh Hooker of Mechanicsville, MD, Stephanie Lynn Mohun of Leonardtown, MD and Lisa Ann Foote of La Plata, MD. She was the great-grandmother of Derek, Elizabeth, Nolan, Lydia, Katelyn, Mikah, Aidan, Lorin, Kyle and Kennedy.

She was also preceded in death by her siblings, John "Ambrose" Wells, Carol Victoria Wells, Maurice "Mike" Roland Wells, Joseph "Leo" Wells, Catherine "Kitty" Regina Sullivan and Eleanor Josephine McFadden.

In lieu of flowers, memorial contributions may be made to the Asbury-Solomons Benevolent Fund, 11100 Asbury Circle, Solomons, MD 20688. Arrangements provided by Lee Funeral Home.