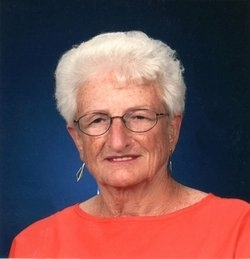 Wanda Jo Smith, 85, of Compton, MD entered eternal glory on March 30, 2016 at St. Mary's Hospital in Leonardtown, MD. She was born on August 9, 1930 in Texas to the late Samuel O. Smith and Lena Head Smith.

Wanda grew up in Wichita, KS where she went to work for the Air Force as a Civil Servant after high school. A few years later, Wanda transferred to Washington, DC where she held many positions with the Federal Government; during which time she attended the JFK School of Government at Harvard. In 1981, she retired as Assistant Deputy Inspector General of the Department of Interior. After retirement, Wanda moved permanently to St. Mary's Co. on Cecil Creek where she had been spending her weekends for the last several years.

She was an avid reader and particularly enjoyed spending time outside. She loved cutting her grass as well as that of her neighbors. Wanda loved to fish and always seemed to catch the biggest one! She loved to play golf. She was a very good golfer and even gave golf lessons to other ladies. For many years Wanda enjoyed travel in her RV and enjoyed spending winters in Santa Rosa Beach, FL.

Wanda was a very independent lady and was very handy; she took pride in fixing things herself, and there weren't many jobs she wouldn't tackle. She also enjoyed knitting and the last couple years she took great delight in making hats and booties for the newborns and slippers for the patients in the Cancer Center at St. Mary's Hospital. She was always a sports fanatic. She herself played Semi-pro basketball and softball touring the country. However, her greatest love was her family, especially her surrogate great grandchildren, whom she loved to spend time with, even going to dance recitals and little league baseball games. She also loved her little rescue dog, Lulu. She was a member of First Saints Community Church, St. Paul's Campus.

Wanda is survived by her brothers, Alfred O. Smith of Denver, CO and Jerry L. Smith (Lucrecia) of Wichita, KS; her nieces Sharon Bullard and Linda Mullikin (Larry) of Wichita, KS, nephews Mark Smith of CO, John R. Smith of Kansas and Mark A. Smith of Washington State. She had a great niece and several great nephews and many great great nephews and a great great niece and many extended family and friends. Wanda's "Maryland Family" includes Margaret Ann Pruitt; Jennifer Ann Owen (Doug), Emily Windham and the two she called her "surrogate great grandchildren", Brynn and Brayden Owen, and many other friends. In addition to her parents, she is also preceded in death by her sister, Mabel L Nelson and two great nephews, Justin and Brandon Mansfield.

Family will receive friends for Wanda's Life Celebration on Saturday, April 16, 2016 from 11:00 a.m. - 12:00 p.m., with a Funeral Service celebrated by Pastor Ruth Dixon at 12:00 p.m. at Brinsfield Funeral Home, P.A., 22955 Hollywood Road, Leonardtown, MD 20650. Interment will be private.

Memorial Contributions may be made to the American Cancer Society, 1041 Route 3N, Building A, Gambrills, MD 21054, the National Multiple Sclerosis Foundation, 1800 M Street, NW, Suite 750 South, Washington, D.C. 20036 and the Humane Society of Charles County, 71 Industrial Park Dr, Waldorf, MD 20602. Arrangements by the Brinsfield Funeral Home, P.A., Leonardtown, MD.