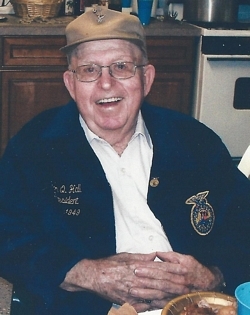 Donald Quarles Hall (Donald Q) passed away on April 4th, 2016. Donald was born in Prince Frederick, Maryland on October 25, 1928. He moved to Calvert County as a young child and loved farming.

He graduated from Calvert High School. He married Ruth Marie Wood on March 23, 1951. Their daughter, Cynthia Marie, was born on August 18, 1952.

Donald worked extremely hard all his life to provide for all of his family. He retired from the State Highway Administration after 25 years of service. He was the Acting Assistant State Highway Maintenance Engineer when he retired. He was known for undertaking many hard tasks and employment to provide for his family.

Donald leaves behind his daughter, Cynthia Hall Craft, granddaughter Amber Noelle Dixon, her husband, Jeffrey Dixon, and great granddaughters Kelsey Marie Dixon and Samantha Rose Dixon. He also is survived by his siblings Betty Lou Larson and Edgar Henry Hall, Jr.

He always showed his love for his family. There were many shared moments of love, joy and laughter. They are honored to have him as the patriarch of their family. He was a wonderful husband, father, grandfather and great grandfather. Donald was adored by his wife, daughter, grandchildren and great grandchildren. He made sure that they never went without anything they needed if there was anyway he could provide it. He was committed to his family and they honored, loved and respected him.

He loved being a husband, a father and a Pop-Pop. He always said that he wasn't a wealthy man but his family made him a rich man! Donald enjoyed playing soft ball. He was a member of the Trinity United Church team where he pitched well into his 70's. He enjoyed league bowling and competing with his wife, Marie. He was both an Orioles and Dallas Cowboy fan.

Donald served on the Calvert County Fair Board. He was a member of the Calvert County Lions Club. He was twice the Past Master of the Prince Frederick Masonic Lodge 142. He was a member of the Shriner's. He drove handicapped children back and forth to the Shriner's Hospital for treatment. He was very proud to have been the first president of the Future Farmers of America (FFA) from Maryland. He was considered somewhat of a historian for Calvert County. He was interviewed many times by local newspapers regarding County history.

Donald was predeceased in death by his loving wife of 63 years, Marie, and his beloved grandson, Christopher Allen Craft; his father, Edgar Henry Hall, Sr., mother, Naomi Catherine (Sunderland) Hall, his sister, Catherine Jean Sears, and brother, Gerald Hall.

The family will receive relatives and friends on Thursday, April 7, 2016 from 2-4 & 6-8 PM at Trinity United Methodist Church, Prince Frederick, MD. A funeral service will be offered the next day at 11 AM at Trinity United Methodist. Interment will follow the service in Asbury Cemetery.

In lieu of flowers, please make donations to the Shriner's Hospital for Children. He said some of the greatest joys in his life was to see a child who could not walk when entering the hospital come out running to him after receiving their prosthetics.

Arrangements provided by Rausch Funeral Home.