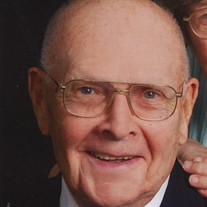 Gerald Wayne Davis "Gerry", 88, of Welcome, MD passed away peacefully in his home on Saturday, April 2, 2016. He was born March 21, 1928 in Nuremburg, PA, the son of the late Wallace W. Davis and Susan Irene Hauck Davis. He was also preceded in death by his brothers and their wives, Marvin and Lucretia Davis and Franklin and Mable Davis.

After serving four years in the United Sates Navy, he came back to Washington, DC and finished his education. He began teaching in Charles County, when offered more money he left the classroom for two years. Prince Georges offered him a position and he returned to the classroom to teach, which was a great love of his. Six years later he returned to Charles County to oversee the construction of the Charles County Vocational Technical Center in Pomfret, MD. He served as the supervisor for all vocational programs in the Charles County until his retirement.

He is survived by his wife, Martha Pritchett Crist Davis ("Pritchie") of 58 years; their children, Dorothy Susan Davis Willing ("Susie") and Wallace LeMerton Davis; Susie's son, Gerald Orem Masri ("Gerry") and his wife Nina and their children Brett T. Masri and Carlymae B. Masri; and Wally and his wife Roberta Davis and their children, Robert W. Davis, Jessica D. Corbin and her husband Donte Corbin, and Kristen L. Davis, and Joshua J. Davis and his daughter Olivia Davis.

Friends received on Thursday, April 7, 2016, from 10AM until time of Funeral Service at 12PM at the La Plata United Methodist Church, 3 Port Tobacco Road, La Plata, Maryland 20646. Interment on Wednesday, April 13, 2016 at 1PM at MD Veterans Cemetery (Cheltenham, MD). Arrangements by Raymond Funeral Service. In lieu of flowers, the family has asked that donations be made to La Plata United Methodist Church Food Bank, 3 Port Tobacco Road, La Plata, MD 20646 or to Hospice of Charles County, 2505 Davis Road, Waldorf, MD 20603.