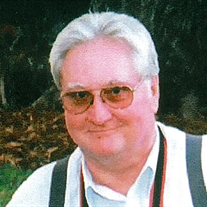 Douglas Duane Alford of Charlotte Hall, Maryland formerly of Indian Head died on April 2, 2016 at the Charlotte Hall Veterans Home in Charlotte Hall. He was 73 years old. Born on May 10, 1942 in Washington, DC, son of the late Dorothy B. and the late Johnny A. Alford.

Mr. Alford served in the U. S. Air Force until he was Honorary Discharged in 1965. He then worked with the Information Technology at the G. S. A. He enjoyed photography, fishing, playing golf and being with his family, especially at the Sunday dinners.

In addition to his parents, Mr. Alford was preceded in death by his sister Brenda A. Mills. He is survived by his niece Debra J. Burch and her husband Johnny; nephews Ellsworth "Skip" Mills III and Daniel O. Mills; brother-in-law Ellsworth Mills; great niece Sarah Lowery and her husband Justin; great nephews Keith and Chad Burch, Luke and Carter Mills; great great nephew Jayden Lowery.

Service and interment will be private. Arrangements provided by Raymond Funeral Service.